U.S. Olympic & Paralympic Foundation News
Jajaira Gonzalez hoping to make family proud in Nanjing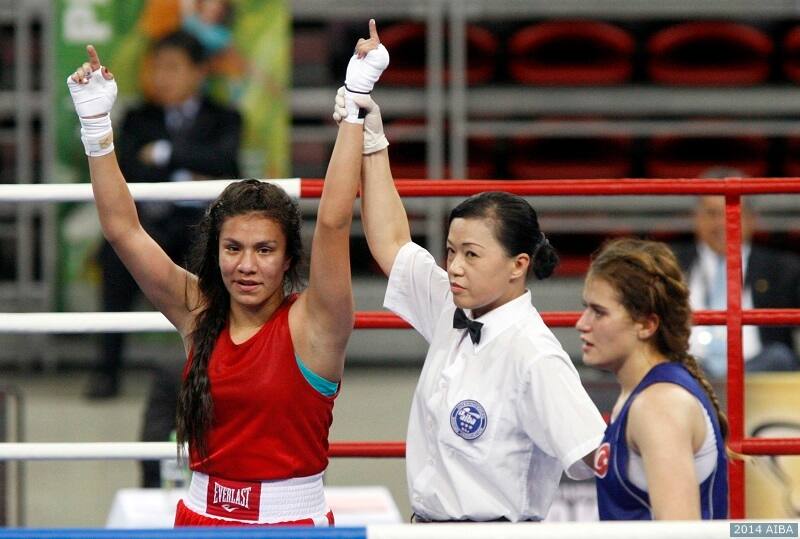 Jajaira Gonzalez is one of four boxers representing Team USA at the 2014 Youth Olympic Games in Nanjing, China.
Growing up in Glendora, California, Jajaira Gonzalez was the only girl in her boxing gym. It's been that way for as long as she can remember.
But Gonzalez, 17, isn't complaining about that.
"Other girls came and went, but they never took it serious," Gonzalez said.
When her father first took her to a boxing practice at age 8, Gonzalez wasn't into it. No other girls, especially her age, were doing the sport. So she would slack off in the gym or pretend to be sick, hoping to get out of training.
That all changed with one comment from a taunting boy.
"When I was younger, this one kid in my gym was like, 'Uh, why is there a girl here?' And I looked at him like, 'What?'" Gonzalez recalls. "So my dad was like, 'Hey, we're going to take a month or two to get ready, and then we're going to spar him.' So I was training, I was working hard. And then I sparred him, and I beat him up bad. From there, I just started liking it."
She has come a long way since that memorable victory. In fact, Gonzalez is set to represent Team USA at the 2014 Youth Olympic Games in Nanjing, China, from Aug. 16-28. She will be the first U.S. female boxer in history to compete at the YOG.
Gonzalez is one of four U.S. athletes who will box in Nanjing, an increase from the one who boxed at the inaugural YOG in 2010. She will be joined by teammates Martha Fabela, Shakur Stevenson and Darmani Rock.
In many ways, Gonzalez is fueled by family. She is coached by her father and two older brothers, Joet and Jousce, and trains alongside her younger brother, JonJairo. Joet, the oldest brother, is a promising professional boxer, while Jousce is a USA Boxing National Championships silver medalist and 2016 Olympic hopeful.
Gonzalez is proud to come from such talented blood. In fact, she frequently spars against her brothers. It's a challenge she welcomes.
"My oldest brother, he's pro. When I spar him, he's so hard to hit. He keeps his arms so tight, you can't get through. But he doesn't hit me hard," Gonzalez said. "My other brother is 19, and he says he doesn't hit me hard – but he hits hard. I get scared to spar with him. And then my little brother, he's 13. I used to beat him up, but now that he's growing, he's getting stronger and better. I still throw hands with him, but he's been getting better."
Those experiences have also made her fiercely competitive.
"I like hitting people," Gonzalez said. "When I hit someone and I see their head go back, I like the feeling. Because I know I'm winning."
The intensity of her training seems to be paying off, as Gonzalez has become known for her tremendous punch output. It's what took her to a 2013 Junior World Championship title and victory at the 2014 Youth Olympic Games qualifier.
And as she looks ahead to Nanjing, her focus is solely on gold. As the defending world champion in her weight class, she is the favored winner.
"I'm trying to leave Nanjing with gold. That's my goal. I need it," Gonzalez said. "That's what I'm going for."
Gonzalez can be confident in her preparation, having lived and trained at the U.S. Olympic Training Center in Colorado Springs for about a year.
At the OTC, she trains with a dedicated group of elite-level boxers and coaches. She has access to a dining hall catered to the needs of high-performance athletes, a newly renovated strength and conditioning center, and a sports medicine clinic.
But Gonzalez' success has not come easily. Her family has sacrificed both financial resources and time spent together so that she and her siblings can work toward their Olympic dreams.
"My brother got me my boxing shoes," Gonzalez said. "When we go to tournaments, sometimes we have to ask family members to help us out, or we have car washes. Our gym is pretty small. We don't have a lot – my dad pretty much built up the gym and put bags in there. And he doesn't get paid to train us. It's all out of his pocket."
Nothing is guaranteed, either. Gonzalez missed competing at the Junior Olympics in the final year of her eligibility because her family didn't have the money to pay for her travel.
So when Gonzalez takes her spot in the ring in Nanjing, she will fight hard. She will refuse to give up, because that's what her family taught her.
And should she bring home a medal, she knows it will be a shared victory.
"My biggest motivation is my family," Gonzalez said. "I have to sacrifice a lot to be here, to be away from them for so long. I had to be home-schooled. I haven't seen my friends since I've been here. So I just put it in my head every time I fight – I just think about how I've been training for this and making all these sacrifices. I'm not doing it for nothing. It's definitely for my family."
__________________________________________________________________________________________________________________
Your support helps fuel athletes like Gonzalez as they work toward their Olympic and Paralympic dreams each day. By giving to the U.S. Olympic and Paralympic Foundation (USOPF), you can help underwrite many of the United States Olympic Committee's high-performance initiatives, including athlete financial aid and operations at the three official U.S. Olympic Training Centers. Please consider making a gift to the USOPF today.