U.S. Olympic & Paralympic Foundation News
Olympic roots run deep for Colorado Springs natives, USOPF trustees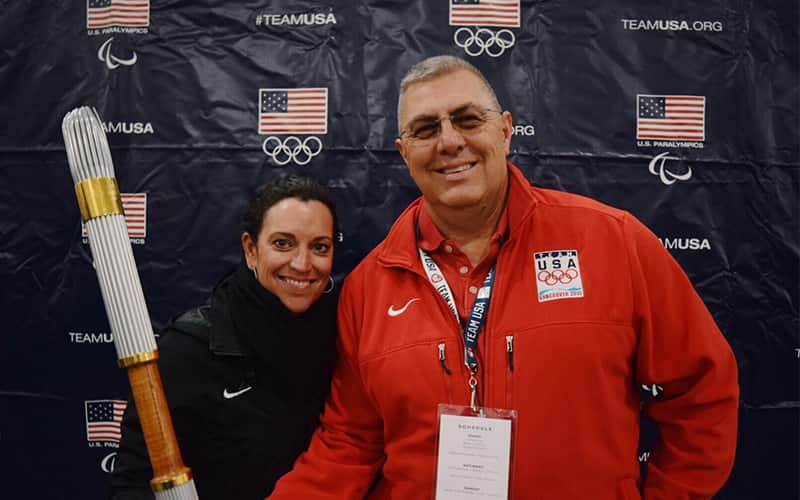 Mari Sinton-Martinez and Paul Martinez at Team Behind the Team VIP Weekend in October 2018.
Mari Sinton-Martinez and Paul Martinez can't imagine what their hometown of Colorado Springs would look like without the presence of Team USA. Nor would they want to.

Mari, a fourth-generation native of "the Springs," as locals affectionately call the city, remembers befriending elite figure skaters who were training at Broadmoor World Arena—and then proudly watching them perform on TV.

Paul recalls run-ins with the gold-medal winning women's volleyball team that shaped his enthusiasm for Team USA for years to come.

"Growing up here, this is Olympic City USA," Paul says. "When I was in high school playing soccer and football, the U.S. women's volleyball team practiced at my high school. I got to meet the gold medal winners at that time and play against them, play with them, in high school.

"It's something that's been embedded in locals in Colorado Springs forever."

Not only has Team USA been a staple in the local community for decades: Mari and Paul have been instrumental in philanthropically supporting U.S. Olympians and Paralympians since 2005, long before the U.S. Olympic and Paralympic Foundation was established in 2013.

Beyond their shared love of Team USA born out of its integration with their home community, there were several aspects of being part of the Team Behind the Team that inspired Mari and Paul to get involved with the U.S. Olympic Committee and, later, the USOPF.

The first was the Paralympic Games, and the stories of countless Paralympians they met. With Army and Air Force bases in Colorado Springs, in addition to the Air Force Academy nestled against the Front Range, they were touched by how injured military veterans discovered a new purpose in Paralympic sport.

They also love how both locals and the whole nation unifies behind Team USA, regardless of individual differences.

"We have so much separation in our world and country today through social media and bullying, and this is one place where you really see unification," Mari says. "We're all here to celebrate unity and friendly competition."

"There's some division in our country, but during Olympic time, in an Olympic year, you don't see that. Everybody comes together, and I like that," Paul says. "I like that a lot."

The pair has experienced this unification and camaraderie in person several times at the Olympic Games. They've missed just two editions of the Games since they first attended the Olympic Winter Games in Torino in 2006, and their list of favorite Olympic moments is long and treasured.

One of Paul's favorites is watching the U.S. men's curling team "come out of nowhere" to claim bronze that year. Mari brings up a more recent memory, one that Paul was watching back home in the States while Mari was cheering in the crowd in South Korea: "USA-Canada women's ice hockey this year was unbelievable. There were tears."

Paul wishes he were there for that moment, but he jokes that seeing his wife on TV a handful of times throughout the Games was nearly as great.

As USOPF trustees, Mari and Paul have helped fund important initiatives like direct athlete support and elite athlete health insurance, programs that provide athletes with stipends and low-cost healthcare as they train to reach the Olympic and Paralympic Games.

Philanthropic support from donors like Mari and Paul helps cover scholarships and career services provided by the Athlete Career and Education Program, the costs of living at an Olympic Training Center and more.

Their leadership in the Paralympic space has also helped the USOPF create the Paralympic Working Group, established to boost philanthropic support for Paralympic athletes and broader awareness of the Paralympic Movement.

Beyond their direct impact, they've also seen firsthand how Team USA has boosted the local economy.

"In 1977, when they announced that the U.S. Olympic Committee's headquarters were going to be here, it brought jobs, it brought people, it brought all these different NGBs, which brought money to this community," Paul says. "In the late 70s, early 80s, it was tough here in Colorado Springs; the economy was a little bit rough.

"[The USOC] didn't cure it all, but it definitely helped. It brought Colorado Springs to the limelight."

"The Olympic Training Center has always been a part of our community and we wanted to support [the athletes training there]," Mari adds. "To be able to help small National Governing Bodies who maybe have fewer resources, we just think that's really important."

Now, as the U.S. Olympic Museum takes shape in downtown Colorado Springs, Mari and Paul see the spirit of the Olympic and Paralympic movements growing stronger both locally and nationally as athletes train for the Tokyo Games less than two years away.

"Both of us were born and raised here, so we kind of like this city," Paul says, in an understatement for their love of Olympic City USA. "Team USA gives the whole nation a sense of pride, and to be able to be part of that [Team Behind the Team] is special."

To learn more about how you can support Team USA, please email foundation@usoc.org.