U.S. Olympic & Paralympic Foundation News
USOC Announces Second Year Of Team USA Endurance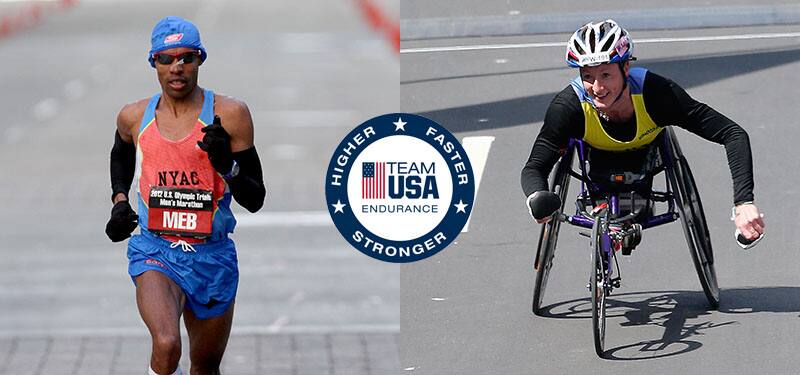 Meb Keflezighi (L) competes in the U.S. Olympic Team Trials on Jan. 14, 2012 in Houston, Texas. Tatyana McFadden (R) celebrates as she wins the women's wheelchair division of the 2014 B.A.A. Boston Marathon on April 21, 2014 in Boston, Massachusetts. Keflezighi and McFadden will be serving as co-captains of Team USA Endurance.
The United States Olympic Committee stands apart from most National Olympic Committees around the world in that Team USA is not only cheered on by an enthusiastic fan base, but also funded by one.
That's why for the second straight year, the USOC has announced Team USA Endurance as a charity partner of the New York City Marathon.
A fundraising initiative of the USOC, Team USA Endurance is a group of 25 individuals who pledge to raise money for the USOC in support of U.S. Olympians, Paralympians and hopefuls. In exchange, members are afforded an automatic race entry to the 2014 New York City Marathon, which is set for Nov. 2, as well as expert support and exclusive benefits.
In the months leading up to the race, runners receive official Team USA gear, a monthly newsletter and a comprehensive marathon training plan designed by renowned USA Track & Field coach Andrew Allden. Members are featured on TeamUSA.org as official members of the Team Behind the Team. Race weekend includes a team rally, fun run and brunch.
And as another distinct benefit, members will suit up on race day as teammates of marathon champions Meb Keflezighi and Tatyana McFadden, who are serving as co-captains of Team USA Endurance. Keflezighi is the 2004 Olympic marathon silver medalist and 2014 Boston Marathon champion. McFadden is a three-time Paralympic track & field champion and 2013 NYC Marathon champion. She's captaining the team for the second straight year, while Keflezighi is joining the program for his first year.
Keflezighi and McFadden will race as professionals, striving to win their second and third New York City Marathons, respectively. Throughout their journeys to the finish line, from long training runs to a team rally on race weekend to race day itself, they'll represent Team USA Endurance. In doing so, they will inspire and cheer on their teammates – the 25 individuals running to raise funds for the USOC.
Running on the same team as Olympic and Paralympic medalists is one of the many unique benefits of joining Team USA Endurance. And it speaks directly to the central premise of the program: amateur athletes becoming members of the Team Behind the Team through their support of Olympians, Paralympians and hopefuls.
"Without the support of the U.S. Olympic Committee and its generous donors, like the members of Team USA Endurance and their supporters, I would not be where I am today," Keflezighi said. "Having the opportunity to race for Team USA and for this country has changed my life, and I am honored to be able to give that experience to others."
The USOC does not receive federal funding for its Olympic programs, thus it relies on the generosity of sponsors and the American public to provide its athletes with the resources they need to be competitive at the highest level.
"Because the USOC is a nonprofit organization, we rely on support from fans, friends and family of Team USA," McFadden said. "In order for athletes to continue to do what they do, it takes a lot of money – for equipment, lodging and travel, all of those expenses."
With Keflezighi and McFadden as captains, members of Team USA Endurance will receive exclusive updates, direct encouragement and training tips from two of the most iconic marathon racers in the nation.
McFadden, who was born with spina bifida, was adopted from Russia as a child and quickly became involved in every adaptive sport she could find. Today, she is one of the United States' most successful and highly-recognized Paralympic athletes. McFadden owns 10 Paralympic medals in wheelchair track & field, in addition to a silver medal in cross-country skiing from the Sochi 2014 Paralympic Winter Games. At the 2013 International Paralympic Committee Athletics World Championships in Lyon, France, she etched her name in the history books when she became the first woman to win six world titles in the same year.
McFadden has also raced to two New York City Marathon titles, one in 2010 and one in 2013. The 2013 victory came in the midst of an unprecedented "grand slam" in which McFadden won the four major world marathons in a single year (Boston, London, Chicago and New York City).
Keflezighi, too, knows a thing or two about overcoming challenges. As a 12-year-old, he and his family fled to the United States from Eritrea as refugees. His native country was in the midst of a 30-year war with Ethiopia, and he and his nine siblings were used to a life surrounded by violence.
They were in search of a new beginning – and Keflezighi found his in running. Now known as "Marathon Meb" to fans worldwide, the distance running star has achieved tremendous success on the international stage throughout his career.
A three-time Olympian, Keflezighi became a household name after he won silver at the Athens 2004 Olympic Games in the men's marathon – a race in which he was initially seeded 39th. His resume also includes a victory at the 2009 New York City Marathon, a fourth-place finish in the London 2012 Olympic marathon and 21 national championship titles as a professional. Keflezighi's latest accomplishment came at the 2014 Boston Marathon in April, where he became the first American male to win the race since Greg Meyer in 1983.
As someone who has been through his fair share of challenges – from a childhood in a war zone to several injury-plagued running seasons – Keflezighi is prepared to offer his advice on overcoming and staying focused.
"Whatever you are working towards in life, be it a college degree or a marathon, there will be plenty of ups and downs along the way," Keflezighi said. "Part of my role with Team USA Endurance will be to keep these athletes motivated to train every day. I know what it's like to put in the miles even when you're tired, busy or stressed. But I also know the joy of accomplishing a goal after you've worked so hard for it."
Keflezighi, too, will draw inspiration from his "team" throughout the training process.
"When you train with a motivated group like Team USA Endurance, you have a constant support system and a bigger reason to run," Keflezighi said. "I am motivated to keep working hard because I know these runners will be, too. And if I can help support these individuals who are giving so much to Team USA, I am proud to do so."
At the 2013 New York City Marathon, the 22 members of Team USA Endurance raised nearly $100,000 for the USOC through 274 individual donations. This year, with 25 runners and two of Team USA's most accomplished marathoners at the helm, that number is sure to soar even higher.