U.S. Olympic & Paralympic Foundation News
Cindy Stinger cherishes own Olympic memories, preserves those of others as alumni relations manager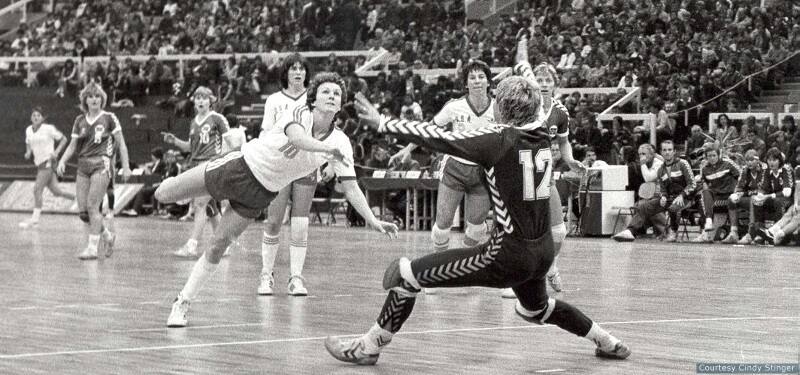 Cindy Stinger, a three-time Olympian in the sport of team handball, now manages the USOC's U.S. Olympians and Paralympians Association.
Three Olympic Teams. Fourteen years on the U.S. National Handball Team. Ten years with the United States Olympic Committee's drug control program. One year as the USOC's manager of youth and community programs. Seventeen years and counting as manager of the U.S. Olympians & Paralympians Association.
It's safe to say Cindy Stinger is familiar with the Olympic Movement.
Stinger, a member of Team USA for the 1984, 1988 and 1992 Olympic Games in the sport of team handball, has a treasure trove of stories from that era in Olympic history. Her passion for the Olympic Movement is immediately evident, and her memories from those years are rich.
She'll describe the time she and her field hockey teammate Pamela Boyd were recruited from tiny Davis & Elkins College to Colorado Springs to try out for the U.S. National Handball Team. It was 1978, two years after the sport debuted for women at the 1976 Games.
"To have a chance to play team handball was just a fluke because they were playing it intramurally at D&E," Stinger recalls. "We went through this battery of tests, and we got recommendations from past coaches, and the next thing we knew, we got tickets to come out to Colorado Springs. I had never flown before."
She remembers that the U.S. Olympic Training Center looked a little different back then, too.
"We walked onto that campus and there was a chain-link fence around it. The Olympic rings were at the front gate, which said, 'Welcome to the Miller High Life Olympic Training Center.' And we're like 'Oh yeah! Miller High Life? That's our sponsor?' We were college kids – we still liked to have fun and party and all that. That trip to Colorado Springs changed my life, and I played handball from that moment until I retired in 1992. Just, you know, by crazy chance."
She recalls living at the training center in 1980 and learning of the U.S. boycott of the 1980 Games in Moscow. She and her handball teammates protested alongside resident volleyball, wrestling and track & field athletes. They hung a banner pleading "No Boycott" outside of their dorm room window, and the image appeared in People magazine later that month.
She can tell you about her favorite moment as an Olympian – defeating China as underdogs in the first game of the Los Angeles 1984 Olympic Games in front of a home crowd. And she has several fascinating stories from her experience as a torchbearer during the Beijing 2008 Torch Relay, which was shaken up due to Tibetan independence protests.
Stinger's life after sport has been equally interesting. She spent 10 years working in the USOC's drug control program, the work of which is now conducted by the U.S. Anti-Doping Agency (USADA). She also managed the USOC's youth and community programming for a year, an experience she says helped establish some wonderful relationships with both active and retired athletes. When the World Olympians Association and its subsequent national chapters began forming in 1996, Stinger said she transitioned somewhat naturally to an alumni relations role.
Today, Stinger manages the U.S. Olympians & Paralympians Association, based at the USOC headquarters in Colorado Springs. In her role, she connects Team USA alumni with events in their communities through regional Olympian and Paralympian chapters, assists athletes with financial hardship and career transitions after sport, and engages with the families of Olympians and Paralympians who have passed away.
Though Stinger has worked in nearly every USOC department at some point throughout her career, she is now a part of the U.S. Olympic and Paralympic Foundation, the fundraising branch of the USOC.
"I've been in media, I've been in athlete services, I've been in marketing," Stinger said. "I've shuffled through so many divisions, but I've always thought that development is where the alumni association should be. Our Olympians can help us – we just have to figure out a way. And that's probably the biggest challenge right now."
Stinger's job is not – and never will be – to ask past Olympians and Paralympians for money. Rather, she hopes to build a culture among Team USA alumni that encourages involvement and participation with the Olympic Movement. She knows U.S. athletes can be some of the strongest advocates for the work of the USOC – if they are recognized and given ample opportunities to stay connected.
Stinger also understands the importance of honoring Olympic and Paralympic legends even after they've passed.
"Engagement is so important, recognition is so important," Stinger said. "I went to New York last week to help dedicate an exhibit that's honoring Al Oerter, and they're calling it the Al Oerter Rec Center. He's not with us anymore, but I hear about these events going on and I think, 'That's an event I want to be at,' because it's important for the family. And that's all people want. Al's gone, but his legacy will live on forever. Those are the Olympians who have paved the way for us. It's the Bob Beamons and the Wilma Rudolphs and the Micki Kings of the world who define what this movement is about."
It's the Cindy Stingers, too.
For more on the USOPA and its mission, visit Teamusa.org/US-Paralympics/Resources/US-Olympian-and-Paralympian-Association.