U.S. Olympic & Paralympic Foundation News
USA Sled Hockey reunites in D.C.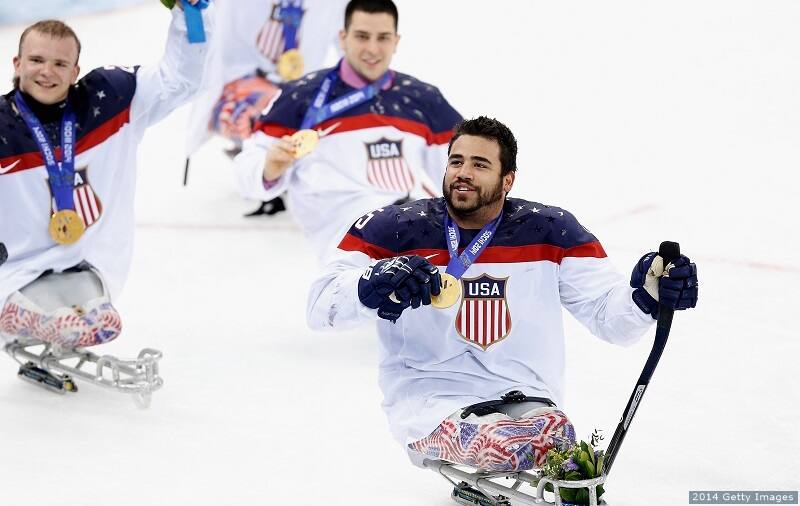 With its victory in Sochi, Team USA became the first sled hockey team to win back-to-back gold medals at the Paralympic Winter Games.
Following its golden performance at the Sochi 2014 Paralympic Winter Games, the U.S. National Sled Hockey team isn't resting on its laurels.
Both awareness and popularity of sled hockey, a version of ice hockey adapted for athletes with physical disabilities, grew significantly during the Sochi Games. In the U.S., that exposure was due in large part to NBC's live broadcast of the gold-medal final between Team USA and Russia.
Upon returning from Sochi, the U.S. Paralympic Sled Hockey Team was named "Team of the Games" at the United States Olympic Committee's "Best of Us" awards show. Sixteen-year-old forward Declan Farmer was named Best Male Athlete of the 2014 Paralympic Winter Games by the International Paralympic Committee, and later received the 2014 ESPY Award for Best Male Athlete with a Disability. Marine Corps veteran Josh Sweeney received a unique accolade at the ESPYs, the Pat Tillman Award for Service.
First pitches were thrown, hometown parades were held and autographs were signed.
But there is only so much time for celebrating when a new season – and a world championship – is just around the corner.
The 2014-15 U.S. National Sled Hockey Team, which was selected following tryouts in late July, features 11 returning members from Sochi as well as an influx of new talent.
Sweeney, who scored the only goal in Team USA's 1-0 victory over Russia for the gold in Sochi, is one of the strongest to return to the squad.
"A lot of the guys who aren't coming back have been trying to finish school, they have jobs or they just have a life that they're trying to build for themselves, so I think it's good that those guys are moving on and now able to finish what they were doing that was not hockey-related," Sweeney said. "And I think it's great for the new guys who have been trying out for the team year after year, and haven't made it because we had such a solid set for the national team. It's really good to get some new fresh faces."
Sweeney is also working to grow the sport at the community level. The retired Marine Corps sergeant recently moved to Portland, Oregon, with his wife Amber, and is in the process of forming the first organized sled hockey team in the area.
"All we want to do is create an awareness so that guys can come out and try sled hockey and have as much fun as we do," Sweeney said. "There's definitely an interest to play, so once we get enough equipment I think we'll end up having more than enough people come and try out."
In the meantime, Sweeney and his national teammates will work on building chemistry on and off the ice as they prepare for the International Paralympic Committee Ice Sledge Hockey World Championships in Buffalo, New York, in April 2015.
"I think the reason we win games is because we're a pretty tight-knit group," said 2014 U.S. Paralympian Nikko Landeros. "I think we look pretty good, and hopefully some of the new guys can pick it up quick so we can have a solid team here for Buffalo."
Building chemistry will be the focus of the team's first official training camp, set for early October in Washington, D.C. The highlight of the week is an exhibition game against the USA Warriors, a club-level team composed entirely of military veterans. Held at the Kettler Capitals Iceplex, the scrimmage is meant to exhibit sled hockey to a wider audience and raise awareness and funding for the Paralympic Movement at all levels.
After D.C., three members of the 2014 U.S. Paralympic Team will continue onto events in Los Angeles and Denver, hosted by AEG and the Daniels Fund, respectively. Retired Army Staff Sgt. Rico Roman, retired Marine Corps Cpl. Paul Schaus, and Sweeney were each wounded during military service in Iraq or Afghanistan. Each discovered sled hockey as a form of rehabilitation through the USOC's Paralympic Military Program. The teammates, who call themselves the "Bravo Delta Line," share a unique connection both on and off the ice.
With a reception and autograph-signing planned at each stop, the trio will have the chance to meet and tell their story to supporters across the U.S. The Denver event coincides with Veteran's Day, offering a unique opportunity to honor Sweeney, Schaus and Roman while spreading the word about the Paralympic Military Program.
The tour will also encourage donations to the U.S. Olympic and Paralympic Foundation, the philanthropic branch of the United States Olympic Committee. A separate nonprofit formed in 2013, the USOPF is dedicated to generating financial support for Team USA's athletes and programs.
"The money that we receive really does make a difference," Sweeney said. "Not only is hockey equipment not cheap, but wheelchairs and other external things that we need – it adds up. Guys on the team could be having to choose between, 'Do I want to buy a new sled because I really need it, or do I want to get a new wheelchair because I really need it?' Well, it's probably going to be the wheelchair because they use that every single day. So these funds are definitely appreciated and we do work hard with them."
Landeros added that even national team tryouts, which were also held in Buffalo, can be cost-prohibitive for some players.
"That ticket to Buffalo can be as much as going to Hawaii, depending on where you're at and how soon you can book it," Landeros said. "I know a few people from L.A. and places like that who just don't have the funds to fly out, and they're good hockey players."
American donors, however, can help alleviate some of these costs with a gift to the Team USA Fund or the Paralympic Champions Fund, both of which directly support Paralympic athletes and programs.
The Team USA Fund is the home of the USOPF's unrestricted, current-use giving – the basis of support from the American public. Individuals across the country can make a gift of any size, knowing that it will help cover athlete financial aid and high-performance services ranging from coaching to nutrition to sports psychology.
The Paralympic Champions Fund, meanwhile, offers one of the most meaningful ways to directly impact the Paralympic Movement in the United States. With gift levels starting at $120,000, payable over four years, the PCF helps underwrite the living and training expenses incurred by an athlete as he or she trains for the Paralympic Games. Champions Fund donors also have the opportunity to travel as part of the U.S. delegation to the Paralympic Games, watching in person as U.S. athletes achieve their dreams on the world stage.
In recent years, the USOC's Paralympic fundraising initiatives have gained momentum. In fact, financial aid for Paralympic national team athletes nearly doubled from the Vancouver 2010 Games to Sochi 2014. Still, there is progress to be made.
Landeros said he feels fortunate have the personal funds to pursue his athletic career – especially because right now, that investment is too much for many potential Paralympians.
"If I had to work, I probably wouldn't be playing hockey right now, unfortunately," Landeros said. "I'm just really blessed to be able to invest in my life so that I can do it."
For more information about how to give to Paralympic athletes and the programs that support them, visit Give.TeamUSA.org.