U.S. Olympic & Paralympic Foundation News
Fit and focused, triathlete Erin Jones relishes first Games experience with Team USA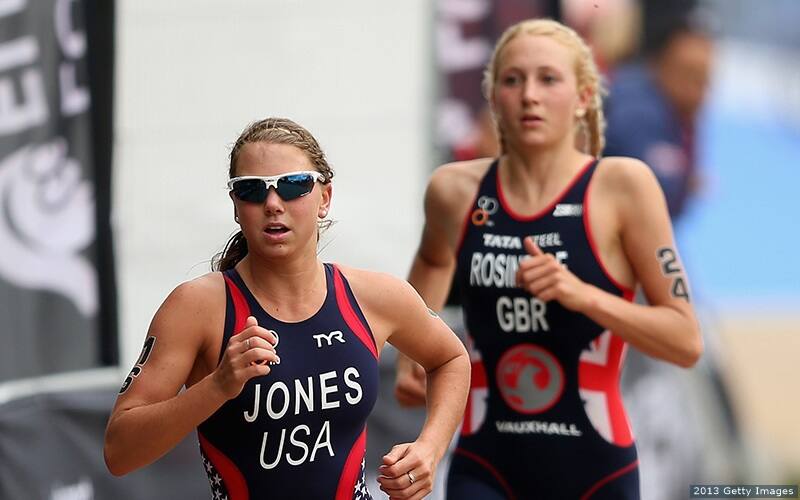 Erin Jones won a bronze medal at the ITU U-23 World Championships in Edmonton last year. The Pan American Games are her first international Games experience with Team USA.
Seven years ago, Erin Jones bought a $200 Trek road bike with rat-trap pedals and gave triathlon a shot.
A competitive high school swimmer and runner, Jones picked up the three-discipline sport as a hobby over the summer. She was successful right off the bat, working her way to the 2010 USA Triathlon Junior Elite National Championships and finishing in sixth place.
Still, Jones couldn't have predicted that by age 24, she would be an Olympic hopeful representing Team USA in triathlon at the 2015 Pan American Games.
But on Saturday, there she was: diving into the Ontario Place West Channel in Toronto alongside 2008 U.S. Olympian Sarah Haskins and fellow U.S. national team member Chelsea Burns. Facing competitors from across North and South America, Latin America and the Caribbean, Jones finished 19th with a time of 2 hours, 5 minutes and 52 seconds.
"It is a huge honor to represent Team USA and a great accomplishment," Jones said. "I feel so humbled and proud to have such an amazing opportunity. It has always been a dream of mine to compete at a major Games event, and to do so wearing 'USA' is a dream come true."
Because triathlon was not offered at the NCAA level when Jones was applying to college (it has since been approved as an NCAA emerging sport), she chose to focus on cross-country and track at Oregon State University. But in 2011, Jones was recruited to Colorado Springs to live at the U.S. Olympic Training Center and focus on a professional triathlon career.
Still living in Colorado Springs, she has since moved off of the training center complex with her fiancé Logan Storie, who competes for Team USA in the sport of modern pentathlon.
Jones continues to credit the OTC and the Elite Triathlon Academy – a Springs-based program launched in 2011 to develop collegiate-aged athletes – for her initial career success.
"The Elite Triathlon Academy program helped me graduate from college and set me up for a professional triathlon career," Jones said. "I consider the Olympic Training Center my second home. It's where my fiancé and I met, where my friends are. They just renovated the new strength and conditioning gym, sports medicine lab, sports physiology room and cafeteria. It's amazing."
Through the Elite Triathlon Academy, Jones learned what it meant to train as an Olympic hopeful – and now, she has that goal within reach.
"Being an American woman, it will be tough to qualify for the Rio Olympics, but I'm just taking it one race at a time," Jones said. "I'm young and fortunate to have the opportunity to race, and only a handful of athletes get to represent Team USA every four years at the Pan American Games."
The Toronto experience brings Jones just one step closer to her ultimate goal – the 2016 Olympic Games in Rio.
"Pan Ams are a huge opportunity to compete in a major Games environment.," Jones said. "I gain race experience in a high-pressure situation. These athletes are the best in the world, and a lot of them have been to the Olympics before. Athletes that can succeed here have a good chance of succeeding in the Olympics."
The United States will select a maximum of three men and three women to compete in triathlon at the 2016 Games. Selection is based heavily on an athlete's ranking in the World Triathlon Series and in the International Triathlon Union points list.
Jones is racing at the senior level for the first time this year after winning bronze at the 2014 U-23 World Championships in Edmonton, Alberta.
In an effort to build up her ITU points and solidify her ranking, she started her racing season in early February. Her hard work in the offseason has paid off, as she has already earned ITU American Cup wins in Punta Guilarte, Puerto Rico, and Dallas, Texas.
"With Olympic points on the line this year, I figured athletes were going to start racing early and start racing fast, especially within the U.S.," Jones said. "I had set my goals in the offseason, and the Pan American Team was another step. I wanted to focus on building a big enough base so I could start racing early and maintain fitness through the season."
Following on the heels of her Pan Ams experience, Jones will jet off to Germany next week for two World Triathlon Series races in Hamburg.
____________________________________________________________________________________________________________
Your support helps fuel athletes like Erin Jones as they work toward their Olympic and Paralympic dreams each day. By giving to the U.S. Olympic and Paralympic Foundation (USOPF), you can help underwrite many of the United States Olympic Committee's high-performance initiatives, including athlete financial aid and operations at the three official U.S. Olympic Training Centers. Please consider making a gift to the USOPF today.