U.S. Olympic & Paralympic Foundation News
How decorated Olympian Lauryn Williams used ACE resources to give back through her financial planning business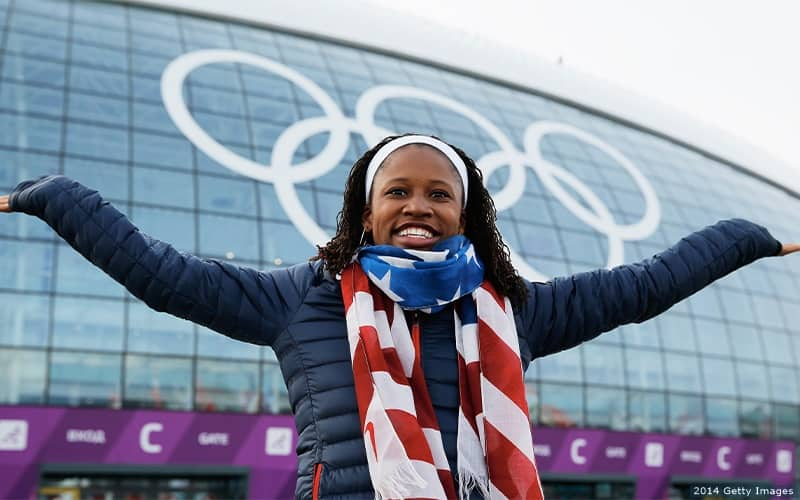 Lauryn Willams poses at the Sochi Olympic Park on Feb. 20, 2014 in Sochi, Russia.
As three-time Olympic medalist Lauryn Williams tells it, she's always had an entrepreneurial streak. It's no wonder, then, that when she couldn't find the type of financial advice she was seeking as she contemplated transitioning into life after sport, she created it herself.
"I was wanting to make good decisions with my money, but I was not feeling very confident that my education was enough to help me make those decisions," Williams said. "Where are the resources for young adults who are looking to make good financial decisions in all aspects of their lives, who don't have a lot of financial literacy, who don't have a good understanding of the nuts and bolts of everyday finances?"
Williams has always loved math (and money, she jokes), so she studied finance while on the track team at the University of Miami. As a student-athlete, she sought financial help from multiple advisors, wondering whether she could get an apartment of her own or if she should buy a house.
But she wasn't getting the kind of information she wanted, so she eventually decided to take her interest in finance to the next level, becoming a Certified Financial Planner and offering other athletes the help she could never find. The answers to the questions she was asking herself were what drove her to start her own business with a unique selling point: when it comes to personal finance, start with the basics and build from there.
"As an Olympic athlete, I understand that [sport] is something they want to do, this is something they're passionate about, and we have to figure out how to use money as a tool to help them reach their goals," Williams said.
After graduating in 2004, she continued her track talents with Team USA, winning a silver medal in the 100-meter at the Olympic Games Athens 2004. She competed again in Beijing—finishing fourth in the 100—and then won gold in London in the 4x100. From there, she began thinking about retirement, and that's where the United States Olympic & Paralympic Committee's Athlete Career and Education (ACE) program entered the picture.
Williams tentatively began her transition to life after sport in 2013, but the pull of competing at an Olympic Winter Games drew her back in, and she won a silver medal in bobsled in Sochi in 2014, becoming the first and, so far, only U.S. woman to medal at both the summer and winter editions of the Games. She officially announced her retirement in 2015, and her next step was to attend ACE's Pivot program, which helps facilitate athletes' transitions out of sport by giving them a peer group with whom they can be vulnerable, share hardships and brainstorm ideas for career next steps.
"The Pivot program was great because it gave me the opportunity to be in community with other athletes who were transitioning, to realize that I'm not alone and that there are many of us who are going through this," Williams said.
At Pivot, she had the opportunity to share her ideas for Worth Winning, her financial planning business, with other athletes in "a room of people who also saw me as opposed to just seeing an athlete." Athletes looking to learn more about the ACE program and how they can take advantage of resources like tuition grants, career coaching and more should email ace@usopc.org.
"My business was in its infancy when I went to the Pivot program. I had started my transition and I was a little bit ahead of some of the others, but it was not full-blown, up-and-running—more of a slow walk, maybe even a crawl at that point," Williams said. "To be able to stand up and say, 'Hey, this is what I'm thinking of doing and here's why it matters to me; it's my way of giving back,' it was a really cool thing for me to be able to experience."
Fast forward to 2020, and Williams' business has reached more than 500 athletes. She has started offering her services to recipients of the Simon Grant, which awards stipends to Olympic and Paralympic hopefuls for training expenses. In early April, she helped a young athlete set up a 529 investment plan "so she can be training and saving for her son's future."
In a way, she sees her business as her vehicle to give back to the athlete community and provide a resource she wishes she had when she was competing.
During the COVID-19 pandemic and its impact on athletes' training and earnings, she is collaborating with ACE to host free webinars this spring on personal finance, taxes and other hot topics so that her peers and the next generation of Team USA athletes can safeguard their financial futures. Williams also shared her advice for the field of play when it comes to pivoting to compete at the Olympic and Paralympic Games Tokyo 2020 a full year later than intended.
"As athletes, we're very good at living in the moment. So the same way that you only were thinking about this year and being prepared for this year, it's just a matter of resetting the clock and refocusing on the new time period. It's not convenient to have to pivot mentally, but it's the same thing that happens on the field of play. At a moment's notice, you need to be able to make corrections, make changes, and that's how games are won or lost—to draw on what we already have inside of us and use that mentality to be able to pivot for the 2021 Games now."
Williams is also grateful for those who financially support the ACE program, which is largely donor-funded, that helped her set her dream in motion.
"I know that I've personally benefited from the donors and from programs that donors have given to, things such as the Pivot program. You're transitioning from sport to life after sport: you need that community, but you also need the flight to get there. It's not lost on me that all these things cost money," Williams said. "That could be cost prohibitive to an athlete who has spent every dollar preparing for their sport and is now trying to look for something different, but hasn't quite figured out what that next thing is.
"Donor funds are very, very important in helping us get our footing and get a foundation from now to later."
Are you a donor interested in contributing to ACE? For more information on how you can support the ACE program and athletes like Lauryn Williams, please email foundation@usopc.org.