U.S. Olympic & Paralympic Foundation News
Matt Simpson eager to help U.S. Men's Goalball Team to gold at Parapan Ams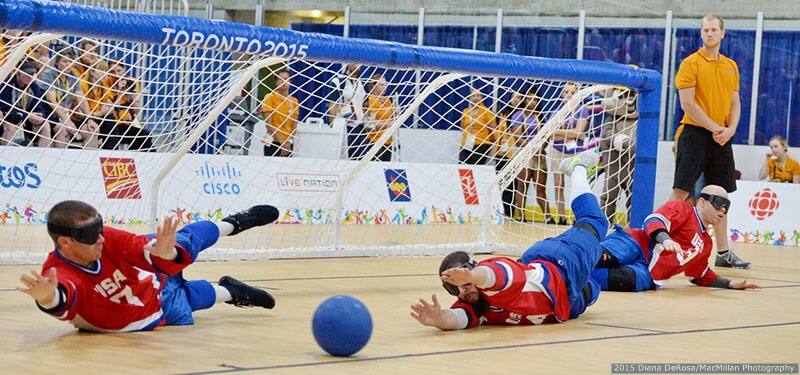 Matt Simpson (left) and the U.S. Men's National Goalball Team will take on defending world champions Brazil at the Parapan American Games in Toronto.
For the U.S. Men's Goalball Team, there's no pressure heading into the Toronto 2015 Parapan American Games.
Unlike in 2011, when the Parapan Ams in Guadalajara, Mexico, were Team USA's last chance to qualify for the 2012 Paralympic Games, the U.S. men have already punched their ticket to Rio.
With a bronze medal at the 2014 IBSA Goalball World Championships, the U.S. effectively earned a team quota for the 2016 Paralympic Games.
"We're in a good situation because we've already qualified, so we don't have to necessarily go in with a lot of pressure or worry about getting a spot for Rio," said Matt Simpson, a member of the national team since 2013. "In 2011, even though I was not on the team, I was involved in the process. Pan Ams were our last chance to qualify and we didn't get it done, so it's nice to be going in with a different approach."
Simpson's role with USA Goalball is unusual, as he also works as the Membership and Outreach Coordinator for the United States Association of Blind Athletes (USABA).
"It's definitely unique – I don't really know of any other athletes who work in their sport as well full-time," Simpson said. "I do a lot of startup grants for teams, programming at the grassroots level, and military funding and programming. I'm really able to impact the sport that I love from the very bottom to the very top, which is cool."
For goalball, a sport designed specifically for blind athletes, awareness campaigns and grassroots efforts are critical.
"Unfortunately, a lot of people don't know about goalball before we introduce them to it," Simpson said. "Not everyone wants to be an athlete or go to the Paralympics, but it's still valuable to know that you can be active, fit and healthy – and that's kind of part of what we do."
Before he leaves for Parapan Ams, Simpson will help coordinate the IBSA World Youth Championships, set for July 28-Aug. 1 in Colorado Springs. The event, held at the University of Colorado, Colorado Springs campus, will feature goalball competition for visually impaired youth athletes.
When he arrives in Toronto, though, Simpson will be solely focused on competing. He and his U.S. teammates will face their biggest challenge against Brazil – the defending world champions, silver medalists from London 2012, and hosts of the Games in 2016.
"Just getting the opportunity to play against Brazil is going to be big for us right now as a measuring stick," Simpson said. "We can go and kind of see where we stand and what we need to work on, and how our style matches up against theirs."
The U.S. most recently faced Brazil in 2013 at the USABA Pan Am Games held in Colorado Springs. There, the two teams tied, although the U.S. finished the tournament as silver medalists while Brazil took bronze.
From the perspective of both a competitor and a staff member, Simpson sees the men's national team – and USA Goalball as a whole – improving every year. Missing the London 2012 Games is now viewed less as a disappointment and more as a valuable learning experience.
"I think we've really been able to re-evaluate how we train as a team and as individuals, and how we work as a team – not just the three of us on the court or the six of us on the team, but the coaches, players and administration," Simpson said. "Obviously not going to London was pretty rough, but we've been able to come back strong because of that and see what we need to change."
In Toronto, Team USA will take on top talent from North and South America, Latin America and the Caribbean. While Rio qualification is not a factor for the U.S. men, they don't plan to leave empty-handed.
"We want to win, there's no doubt about that," Simpson said. "We can go in with an eye toward next year and just get a good feel for the competition. If we don't come back with gold, we won't be satisfied."
The Parapan American Games are set for Aug. 7-15, with semifinal and final goalball games set for Aug. 14 and 15. Toronto 2015 will stage the largest Parapan American Games in history, with more than 1,600 athletes from 28 countries set to compete in 15 sports.

____________________________________________________________________________________________________________
Your support helps fuel athletes like Matt Simpson as they work toward their Olympic and Paralympic dreams each day. By giving to the U.S. Olympic and Paralympic Foundation (USOPF), you can help underwrite many of the United States Olympic Committee's high-performance initiatives, including athlete financial aid and operations at the three official U.S. Olympic Training Centers. Please consider making a gift to the USOPF today.