U.S. Olympic & Paralympic Foundation News
Shooter Amanda Furrer keeps eye on the target in lead-up to Rio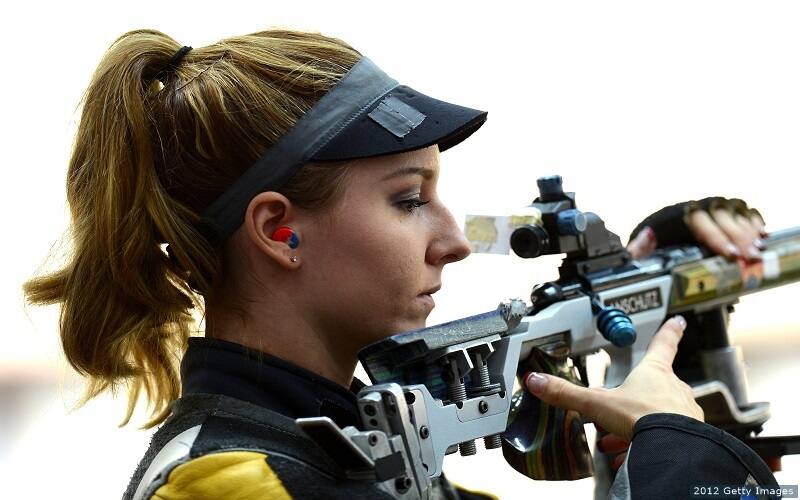 Amanda Furrer competes during the women's 50-meter rifle three positions shooting event at the London 2012 Olympic Games.

When Amanda Furrer first qualified for the 2007 Pan American Games as a high schooler and effectively earned her spot on the USA Shooting National Team, the Olympic Games still felt like a far-off dream.
A year later, though, the 17-year-old found herself at the U.S. Olympic Trials. She exceeded her own expectations, finishing just a few points shy of making the U.S. Olympic Team for the Beijing 2008 Games and being named the team alternate.
It was then that Furrer decided making the 2012 U.S. Olympic Team would be a priority. She trained through college at The Ohio State University, meanwhile working her way up the ranks of the national team. Furrer achieved her goal at age 21, punching her ticket to London and ultimately finishing 15th in the 50-meter rifle three positions event at the 2012 Games.
Now, Furrer has her sights set on a second Olympic appearance in Rio in 2016 – but first, she will test her mettle at this year's Pan American Games, set for July 10-26 in Toronto, Ontario.
For Furrer and her teammates, the Pan Am Games will be an important progress meter on the road to Rio. Podium spots in Toronto are especially important for the sport of shooting, as they help guarantee team member quotas for Rio.
"Pan Ams are definitely a good building block for the Olympics," Furrer said. "It's a good indicator of how things will go over the next year. We're definitely out there to get our quotas and kind of see what we can put out there internationally at a big Games.
As a resident athlete at the U.S. Olympic Training Center in Colorado Springs, Furrer said she is feeling more focused than ever – thanks in part to the help of USOC sports psychologists.
"After the last Olympics I took a year off, and I think that was really healthy after a difficult quad," Furrer said. "Since then, I've been working really hard to get the mental game and the physical aspects back together. It just takes a lot of training with the sports psychologist and our coaches individually, and putting those training plans together – but I definitely think I'm ready to perform."
She now takes a different approach to competing, treating every event like it is as important as the Games.
"The Olympics to me were a whole different ballgame than I've ever been in before," Furrer said. "There are different distractions, that kind of thing. So now I have experience with that and I think I know better how to deal with it now – and performance-wise, I think I've been putting more pressure on myself in training and in some of the other competitions. It's kind of acting like I'm shooting in the Olympics, but it might be a smaller competition."
At the training center, Furrer also has access to a world-class indoor shooting facility, strength and conditioning services, and room and board – all on one campus.
"It's incredible being here (at the OTC). Honestly, it's one of the best training facilities that we have," Furrer said. "Just the shooting building itself – we have incredible electronic targets, the coaches there, and that's not even including that we have the workout facilities and dining."
Because her room and board are included in the program, Furrer can focus on her sport – truly training as a professional athlete without having to balance an outside career. That support makes a tangible difference for athletes like Furrer, since most U.S. Olympic and Paralympic hopefuls incur average costs of about $40,000 annually as they train for the sport.
"Being able to live here is really, really helpful," Furrer said. "It takes a lot of pressure off of trying to maintain a job, and feeling like you have to make a huge income to support yourself while you're also trying to train full-time."
But that doesn't mean she hasn't thought about life after sport. Furrer volunteers with a number of foundations that support military personnel and their families, including Boot Campaign, Brat Pack 11 and the Phoenix Patriot Foundation. She is considering turning that passion into a career after retiring from shooting, becoming more involved with one of those organizations or even starting a foundation of her own.
"My dad and brother were both military, and I have a ton of friends who are in the military, so giving back to military families is a huge thing for me," Furrer said. "Some of these soldiers have lost limbs, and they're supported by these campaigns and these foundations. Going to spend time with them and getting to know them as people – taking them out shooting or doing whatever it is – makes me feel good, and I really enjoy it."

____________________________________________________________________________________________________________
Your support helps fuel athletes like Amanda Furrer as they work toward their Olympic and Paralympic dreams each day. By giving to the U.S. Olympic and Paralympic Foundation (USOPF), you can help underwrite many of the United States Olympic Committee's high-performance initiatives, including athlete financial aid and operations at the three official U.S. Olympic Training Centers. Please consider making a gift to the USOPF today.