U.S. Olympic & Paralympic Foundation News
The athlete's perspective: A breakdown of the World Wrestling Championships with Katherine Fulp-Allen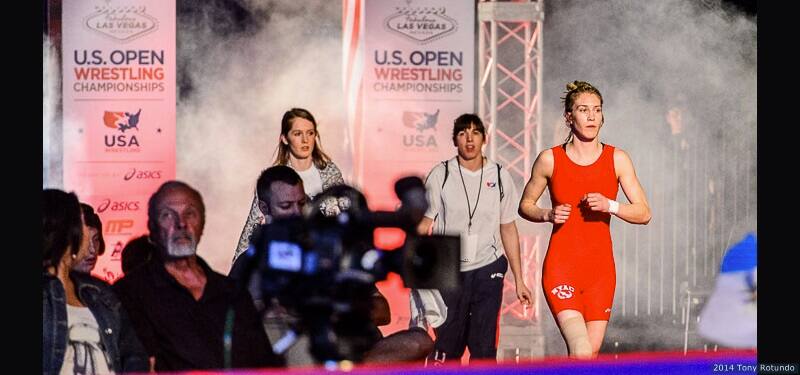 Above, Katherine Shai (Fulp-Allen) competes at the 2014 U.S. Open in Las Vegas. Fulp-Allen did not compete at the 2015 world championships due to injury, but shared her perspective on Team USA's performance with the USOPF.
Katherine Shai (Fulp-Allen) is a four-time member of the USA Wrestling women's national team and the current No.2-ranked American in the 53kg weight class. She is the daughter of three-time U.S. Olympian and legendary wrestling coach Lee Allen, who passed away in 2012. Allen coached Katherine and her sister Sara, also a former national team member, from childhood through their collegiate careers at Menlo College where he was head coach.
Fulp-Allen is recovering from a foot fracture sustained at a recent competition in Mongolia and did not compete in September's World Wrestling Championships in Las Vegas. Instead, she traveled to Vegas to support her teammates, speak at a USA Wrestling alumni event and provide inside access to a Team USA photographer.
Below, Fulp-Allen shares her takeaways from the world championships with the U.S. Olympic and Paralympic Foundation.
USOPF: Three U.S. women medaled at the 2015 World Wrestling Championships, including golds for Adeline Gray and Helen Maroulis. How would you sum up the U.S. women's performance in Vegas?
Katherine Fulp-Allen: We had a great showing in Vegas. This tells the world that the U.S. is having consistency. We battle hard to make a world team and because of our system, the U.S. creates great tough athletes. The U.S. has been third in the world the last two years, which bodes well as we move toward the Rio 2016 Olympic Games. Being on home soil was an awesome opportunity to promote women's wrestling in the U.S, as wrestling fans from across America got to watch the world's best women compete in Vegas. You could tell by the enthusiasm and the comments that the women were impressive and exciting to watch.
USOPF: How about the U.S. men? Does the team look strong a year out from the Rio 2016 Games?
KFA: Right now, we have two men in freestyle and two men in Greco who are ready to medal at the Olympic Games. It's an exciting time for Greco because we have had many of the same world team members over this quad. Men's Greco needs consistency in order to gain the experience needed to medal in the style of wrestling most popular in almost every other country in the world. With Andy Bisek and Robbie Smith leading the way, the U.S. will prove to the world that we are a powerhouse in Greco. Jordan Burroughs continues his amazing consistency in winning world and Olympic titles. He will be exciting to watch as he pursues his second Olympic title in 2016. With Kyle Snyder's win at 19 years old, he became our youngest world champion in U.S. history. What an exciting time to be a part of Team USA and to see what this young athlete will accomplish!
USOPF: Were there any big surprise performances at the 2015 worlds? What was your favorite moment to witness?
KFA: The most exciting moment to witness was the 53kg wrestler from Nigeria, Odunayo Adekuoroye, who took bronze. She is the second woman ever to medal at the worlds for Nigeria. She had to battle her way through the tournament, most likely with her opponents thinking she was not a threat – but her confidence proved them wrong. She was exciting to watch, as her unique style helped her hold onto tight matches and win in the end. It was a true testimony for the advancement of wrestling in African countries. She is truly a hero for Nigeria.
USOPF: What was it like to travel with the team and watch them compete as a spectator? Did you have a chance to take in more than you might have had you been competing?

KFA: I had the unique opportunity to help a local Colorado Springs photographer have behind the scenes access to the competitors, and I helped her understand the unique intensity of competition at the world level.
In addition, USA Wrestling sponsored a women's alumni event to promote and enlist support from past competitors to further grow women's wrestling across the U.S. I was asked to speak at this event as the voice of the current generation of female wrestlers. My family has been intensively involved in growing women's wrestling since the late 1980s. I do not often have the opportunity to share our story and share with the women's wrestling community how important my family's influence has been on my life as a wrestler. I would not have normally been involved in events occurring alongside competition. I was able to be a voice and a face for the women of my generation in a different way than I had anticipated.
USOPF: Tell us about your injury and road to recovery. What are your goals over the next year to get back into top competition form?
KFA: I injured my foot during finals in a major competition in Mongolia. I had a lisfranc fracture, which required immediate surgery. I had three screws and a plate put in my foot and was non-weight bearing for two months. Since then, it has been six months and I have had the second surgery to remove the hardware. I am now back on the mat and preparing for a training camp in China.
USOPF: How did your father, Lee Allen, inspire you to start wrestling? What was he like as a coach?
KFA: My dad was a very low-key coach. He wanted my sister and I to wrestle only if we loved it, and he always supported us in our goals. Because he let us take our time, he allowed us to really fall in love with the sport. My father was very focused on technique. It wasn't always about driving home hard workouts and overworking us as athletes. His focus was on refining high-level technique. He encouraged us to be self-reliant, learn from others and give back to the sport.
USOPF: What was it like growing up with an older sister who also wrestled? How did she inspire and motivate you to keep progressing?
KFA: My sister was a very talented wrestler. Sara paved the path that I would travel to my Olympic dreams. She pushed me hard and taught me that if you want something bad enough, you have to fight with everything you have to pursue it. Since she has retired, she continues to coach and support my goals. She is one of the few who can really relate and understand what I am going through. She is my tough reasoning when I need someone to turn me in the right direction. I would not be where I am today with out her guidance and tough love.
USOPF: Do you have a favorite quote or mantra that motivates you? What gets you out of bed to train each morning?
KFA: "The right path may be the hardest to follow, but it's the one that makes you grow." This quote reminds me that even when I have adversities and hardships, I know that they are there to teach me how to become the person I want to be. It helps remind me that even though winning is important, this whole thing is much bigger than me. I am helping pave the way for future female wrestlers. I am an extremely motivated person. Focusing on the process of my day-to-day training and goals is what motivates me each day. I do not look at days or weeks or months ahead – I can only focus on the moment I'm in.
Fulp-Allen lives in Colorado Springs, Colorado, and trains with the resident women's wrestling team at the U.S. Olympic Training Center. She is a hopeful for the 2016 Olympic Games in Rio. Please consider making a gift today to support athletes like Fulp-Allen on their road to Rio.