U.S. Olympic & Paralympic Foundation News
Roderick Townsend on fast track to success as athlete and coach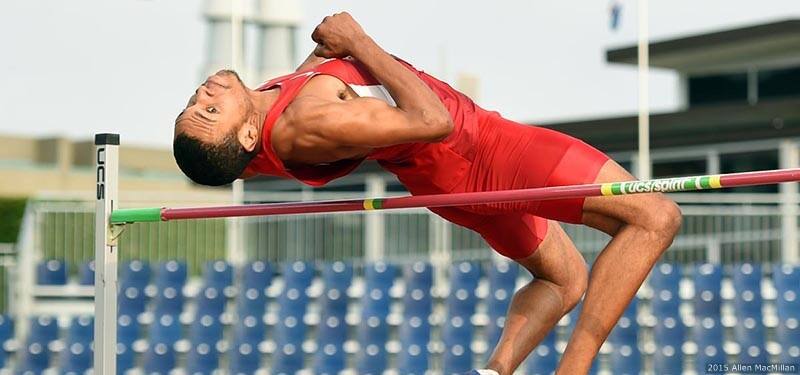 Roderick Townsend clears 2.12 meters en route to a new world record at the 2015 Parapan American Games in Toronto.
When Roderick Townsend learned he was eligible to compete in Paralympic track & field earlier this year, he didn't deliberate for long.
In May, the former Division I collegiate high jumper (Boise State '13) was encouraged by three-time Paralympian Jeff Skiba to get classified in time to compete at the Desert Challenge Games, an annual meet held in Mesa, Arizona.
"I knew I had a disability, but I didn't think anything of it," said Townsend, who was born with a weakened right arm with limited range of motion. "I had heard of Paralympics before, but I thought the only people who did Paralympics were people with blades."
With guidance from U.S. Paralympics Track & Field High Performance Director Cathy Sellers, Townsend learned that many athletes with disabilities similar to his were competing at the Paralympic level. It wasn't long before he set his sights on becoming the best high jumper the Paralympic world had ever seen.
At the Desert Challenge, Townsend won the 100-meters (T45/46/47) and set a new American record in the high jump (F46). A few months later at the U.S. Paralympics Track & Field National Championships, he took home titles in the 100m, long jump and high jump, setting a high jump world record in the process.
"That's the type of tempo I wanted to bring to the table," Townsend said. "To really set the tone, basically, for the type of athlete that I was going to be for the rest of my career."
Townsend went on to break his own high jump world record at the 2015 Parapan American Games in Toronto. Now, his focus is on the 2015 IPC Athletics World Championships, which take place in Doha, Qatar, from Oct. 22-31.
Should he perform well at worlds, he will be one of the most promising athletes to watch ahead of 2016 Paralympic Games in Rio.
"It would mean a whole lot (to represent Team USA in Rio)," Townsend said. "I don't want to say it means this or it means that, simply because I think any of that would be an understatement. It's something that a half of a handful of people gets to experience in their lifetime."
While training for Rio, Townsend also works full-time as the head jumps coach for the Northern Arizona University track & field team. He lives and breathes track & field, from the early wakeups to begin recruiting calls to the afternoons of both coaching practices and fitting in his own workouts.
"It can be very taxing mentally and physically, but I feel like it's doing a lot of good for me as well," Townsend said. "I'm able to say things to my athletes and really be able to reiterate things for myself at the same time. Rather than just going home and forgetting about everything, I'm constantly speaking it, speaking it, speaking it, and demonstrating it – so it forces me to extend my practices."
Townsend is driven to be his best as a competitor – but the athletes he coaches take first priority.
"I'm really excited to be in the position I'm in, because this is really what I want to do for the rest of my life," Townsend said. "When I was coaching at the junior college level, having been a Division I athlete, it was really nice to be able to help people strive toward their goals to earn a Division I or Division II scholarship.
"And now I'm working with athletes who are at such as high level that we're saying, 'Okay, we want to get you guys in some red, white and blue now.' That's always the goal. It's a whole lot of fun to be a part of people accomplishing their goals and achieving their dreams."
Townsend credits his NAU colleague Jeff Hines, the head track & field coach at the university, and his personal coach Jeff Petersmeyer of San Jose State University, for making it possible for him to balance life as an athlete and a coach.
"They've been such a big help for me in being able to work all this out," Townsend said. "They've just done such a great job making things easy for me. I know I have to be in early enough in order to do my recruiting calls and talk to the athletes, and Coach Hines has done a great job of providing me with all of the resources that I need to train."
Starting Thursday, Townsend will test his mettle against the world's top Paralympic track & field athletes – including the ones who may challenge him for gold in Rio. The newcomer has dominated international competition at the Desert Challenge and the Parapan American Games, but this will be his first chance to be crowned world champion.
"I just want to go and do what my coaches and I have been working on," Townsend said. "The last thing I want to do is go to Doha and just worry about how I'm going to set a world record. I want to focus on the small things, and the small things will make the big things happen."
For this Paralympic rookie, big things are surely ahead.
____________________________________________________________________________________________________________
Your support helps fuel athletes like Roderick Townsend as they work toward their Olympic and Paralympic dreams each day. By giving to the U.S. Olympic and Paralympic Foundation (USOPF), you can help underwrite many of the United States Olympic Committee's high-performance initiatives, including athlete financial aid and operations at the three official U.S. Olympic Training Centers. Please consider making a gift to the USOPF today.