U.S. Olympic & Paralympic Foundation News
Tokyo Tips: Tsukiji Fish Market
by U.S. Olympic and Paralympic Foundation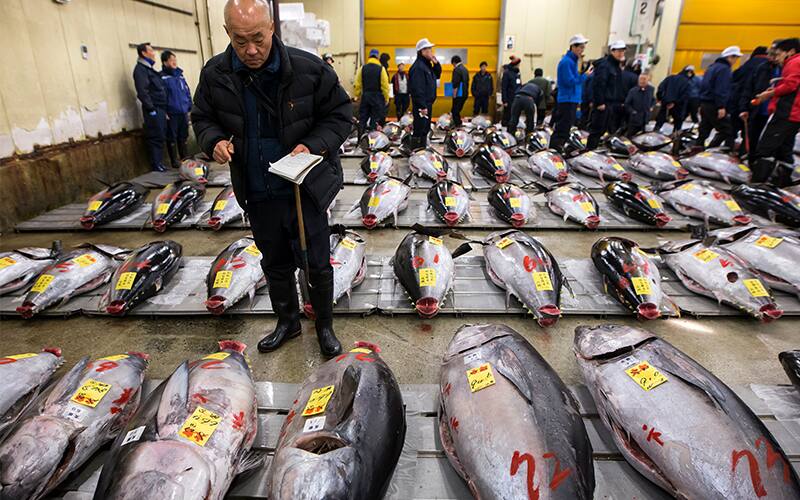 Tokyo Tips is a content series designed to help you make the most out of your time in Tokyo, before, during and after the Olympic Games. With less than two years to go before the Opening Ceremony, Tokyo Tips will deliver a new recommendation each month so you can fill your itinerary with some of the most exciting attractions the city has to offer. Read on for a primer on catching all the action at the Tsukiji Fish Market, an iconic fish trading bonanza set to move to a new home next month.

The Tsukiji Fish Market is the largest operation of its kind in the world, offloading upwards of 700,000 metric tons of seafood annually. Built in 1935, it continues a centuries-long tradition of fish trading in Tokyo. The market sprawls across 56 acres, where 1,200 vendors sell seafood from 60 different countries.

Tsukiji is comprised of inner and outer sections. In the inner market, registered wholesale dealers process the incoming seafood for auction, and at the outer market, vendors sell fresh fish, sushi and other Japanese goods to the gathered tourists.

With the exception of Sundays, holidays and some Wednesdays, the market opens every day around 3 a.m., when fisheries begin to haul in the day's catches, which range from seaweed to tuna fish weighing hundreds of pounds.

One of the biggest draws of the market is the tuna auction, beginning at 5:30 a.m. The auction welcomes 120 spectators in two groups of 60 on a first-come, first-served basis, and to be one of the lucky viewers, you should plan to get to the market as early as possible. Tokyo tourist guidebooks recommend arriving as early as 3 a.m., but during spring and fall, lines may begin forming even earlier.

City officials initiated plans to move the market to the Toyosu district ahead of the Olympic Games Tokyo 2020 to accommodate more vendors and spectators. Through October 2018, you can visit the market at its current location in Tsukiji and apply to see the tuna auction at the Osakana Fukyu Center at the market's Kachidoki Gate.

To learn more about the USOPF's philanthropic giving levels that allow you to reserve your spot at the Tokyo Games, please email foundation@usoc.org.