U.S. Olympic & Paralympic Foundation News
Why Adeline Gray could become the first female U.S. Olympic wrestling champion – and how the Olympic Training Center helped her get there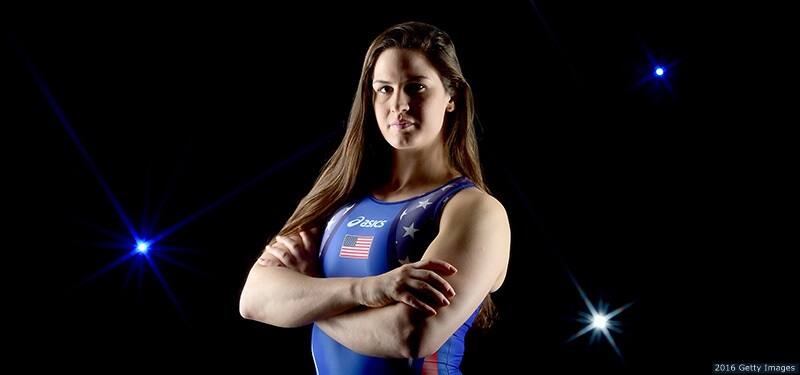 Adeline Gray, who hopes to make history by becoming the first U.S. women's wrestler to win Olympic gold, poses at the 2016 Team USA Media Summit.
The United States has never had an Olympic gold medalist in women's wrestling.
This summer, Adeline Gray wants to change that.
Gray is a three-time world champion (2012, '14 and '15) and has been undefeated in international competition for the past two years. She knows no one can beat her when she's performing at her best, and she gets a rush of confident energy – not nerves – when it's time to compete.
"I'm a lights-and camera-person," Gray said. "The second that the stakes start to get high, I seem to get more focused and more driven. I know what my job is, and I know what it takes for me to accomplish that."
The 25-year-old Denver native began wrestling at age 6 at the encouragement of her father, George. While most girls her age were taking dance or gymnastics, Gray was on the mat, dreaming of one day becoming an Olympian.
She competed – and won – against the boys in high school. And the more she improved, the more opportunities she had to meet other talented female wrestlers from across the country with the same goals as hers.
Life at the Olympic Training Center
When Gray was invited to join the resident women's wrestling program at the U.S. Olympic Training Center in Colorado Springs, she jumped at the chance.
"I made my first world team in 2009, my senior year of high school, and then I was able to move into the Training Center," Gray said. "I was so excited. I moved into one of the resident dorms with now two-time Olympian Kelsey Campbell."
That was seven years ago, and she's been moving forward ever since.
At the OTC, Gray trains with other members of the U.S. Women's National Team under the leadership of world-class coaches Terry Steiner, Erin Tomeo and Emma Randall. She has access to a sports psychologist and nutrition specialist, both of whom she consults on a regular basis to stay mentally and physically strong.
In addition to on-mat training, Gray lifts weights at the newly renovated Ted Stevens Sports Services Center, a 37,000–square-foot strength and conditioning facility.
Also located in Ted Stevens is a recovery and sports medicine center, where Gray admits she spends a lot of her time. After overcoming a dislocated kneecap in 2010 and a serious collarbone injury in 2013, the world champion is prioritizing staying healthy in the lead-up to Rio.
"It hasn't all been sunshine and rainbows – there have been some injuries along the way," Gray said. "But one of the great things about the staff at the Training Center is they helped me stay on track and overcome those, and really come into my own as an athlete."
A fresh perspective
The community at the OTC has been equally important to Gray, as she lives and trains alongside Olympic and Paralympic hopefuls in a wide variety of sports.
"Everyone's world championships are at different times – ours are in September, whereas swimming's, for example, are in the summer," Gray says. "But we all kind of hang out in the cafeteria and talk about it, and all ride off of each others' highs and lows with those events. You get that energy from other athletes."
Gray credits Athlete Services Coordinator Sherry von Riesen – also known as "Team Mom" – for helping her through a tough period of time after her 2010 knee surgery.
"The OTC can be a hard place to be when you're hurt, because the best thing you can do there is train," Gray said. "But Sherry puts together a lot of volunteer opportunities, and that's really what helped me stay connected, have some perspective and find a more positive realm. It's not just about the sport all the time, but it's also about inspiring all the people who are along for the journey."
Gray has spent hundreds of hours volunteering in the Colorado Springs community, from reading to kids at the children's hospital to helping build homes through Habitat for Humanity.
With just months to go before Rio, though, it's time to put full focus on her Olympic dream.
An Olympian – at last
Four years ago at the 2012 U.S. Olympic Trials, Gray narrowly missed making Team USA. She reached the finals in the 63kg weight class, but was defeated by heavy favorite Elena Pirozhkova. Gray traveled to London as an alternate for the team, an experience that only fueled her ambition.
After the London Games, Gray moved up a weight class. After winning the world championship at 67kg that year, her coaches encouraged her to keep adding. She ultimately transitioned to 75kg – a move that certainly paid off, as she went on to win both the 2014 and 2015 world titles.
Entering the 2016 Olympic Trials in April, Gray's perspective was vastly different than it was in 2012.
This time around, it was she who was the heavy favorite. In a final match that lasted only 65 seconds against runner-up Victoria Francis, Gray punched her ticket to Rio in commanding fashion.
She and Pirozhkova will be traveling to the Games as teammates, competing in two different weight classes.
As for her goals later this summer, Gray has some ideas.
For now, though, she's just enjoying being able to – at last – call herself an Olympian.
"I want to celebrate the fact that I just became an Olympian a little bit longer. I've been trying to make an Olympic Team for a long time now, so I'm going to fully allow myself to be excited about that," Gray said. "When we do take those steps closer to Rio, it's kind of glaring what the goal is. We don't have an Olympic gold medalist for women's freestyle wrestling for Team USA, and I'm ready to be that person."