U.S. Olympic & Paralympic Foundation News
Meet David Higgins: The Rio-bound Air Force cadet who will compete for, then serve his country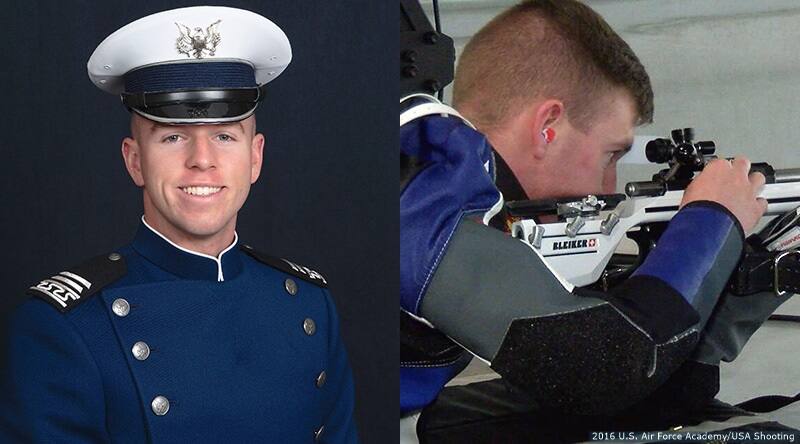 In a span of four months, David Higgins will graduate from the U.S. Air Force Academy, compete at the 2016 Olympic Games and cross-commission into the U.S. Marine Corps.
When U.S. Air Force Academy cadet David Higgins won the U.S. Olympic Trials for men's prone rifle earlier this month in Fort Benning, Georgia, many called it an upset.
Indeed, Higgins came from behind, starting out in third and surging to the lead on the final day of the three-day competition. With the comeback, he surpassed three-time Olympic medalist Matt Emmons, who was considered the favorite to win.
But an upset? For Higgins, that's not quite accurate.
"I knew I was going to be right there with Emmons," Higgins said. "Everybody was saying, 'Oh, Higgins, out of left field! The underdog!' And I'm like, 'You know, guys, I've been shooting well over the last quad.' It may have been a surprise to a lot of people, but I kind of knew where I was by that point."
A historic moment for the U.S. Air Force Academy
While Higgins is relatively new to international competition – he made his world championships debut in 2014 – he's no stranger to performing under pressure. A senior at the U.S. Air Force Academy in Colorado Springs, he is one of the leading members of the Falcons' shooting team.
Higgins took his first trip to the range in eighth grade, and he's been hooked ever since. He focused in on Olympic-style rifle shooting in high school with aims of pursuing the sport at a higher level.
When it came time to decide on a college, Higgins was looking for a school that offered both an accomplished NCAA shooting team and a direct pathway to military service.
"The big factors that led to attending Air Force rather than another service academy were proximity to the Olympic Training Center, as well as the two shooting coaches here," Higgins said. "Our head coach, Launi Melli, is an Olympic gold medalist, and our assistant coach, Michael Anti, is an Olympic silver medalist."
With his win at Trials, Higgins became the first active cadet-athlete in the Academy's history to qualify for the Olympic Games.
From Team USA to the U.S. Marines
For Higgins, whose father is a retired Colonel in the U.S. Marine Corps, serving his country has been a long-term ambition. After graduating from Air Force, he plans to cross-commission into the Marine Corps starting this fall.
"Growing up on Marine Corps bases all across the country, I always knew I wanted to be in the military," Higgins said. "I'm drawn more to the ground-side of things, and you get more of that in the Marine Corps than you do in the Air Force or another branch."
His Olympic berth did, however, cause some adjustments to his post-graduation schedule. While he was previously slotted to begin Marine Corps service in midsummer, USMC leadership agreed to postpone the start date until after August's Games.
"I was supposed to start June 28, but the Marine Corps has moved it back now to September – they were great about that," Higgins said. "It will be really cool to start my career having been to the Olympics."
Enjoying the journey
Higgins credits his Olympic Trials success to a choice he made before the competition's final day – to relax and enjoy the moment.
He was 11.3 points behind Emmons with one day to make up the ground. He knew he might end up with a second-place finish, which would make him a U.S. Olympic Team alternate.
"I decided that night in the hotel that I'd just go out there tomorrow, have a really fun day and enjoy every bit of it," Higgins said. "So that's what I did – I just went out on the line, enjoyed shooting and had a really fun day. It came out that my score was just really good, and pushed me into first place. It was a great experience."
While he admits the three-day Trials process is "incredibly stressful," he leans on years of experience to keep his nerves under control.
"As you mature as a shooter, I think your discipline increases," Higgins said. "You're more detail-oriented, and as long as you stick to those details and don't shortcut anything, it usually works out."
Now that Higgins is officially Rio-bound, he can focus on finishing out his senior year at Air Force – and then get ready for a big year ahead.
"As soon as I got back from Trials, school kind of hit me hard, so I haven't really had too much of a chance to let the fact that I'm an Olympian sink in," Higgins said. "It's something I've dreamed about since I was a little kid, so it's awesome that it's finally happened."
And if he wins gold in Rio, don't call it an upset.