U.S. Olympic & Paralympic Foundation News
Rio 2016 Olympic Games kick off with Opening Ceremony at Maracanã Stadium
by U.S. Olympic and Paralympic Foundation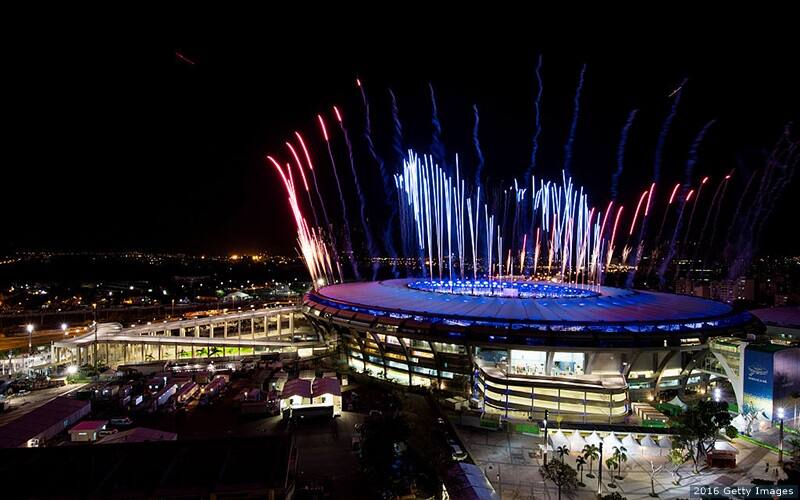 Rehearsal for the Rio 2016 Opening Ceremony at Maracanã Stadium, which is set for August 5 at 8 p.m. local time.

With the Olympic Games kicking off just two days from today, Rio de Janeiro is ready to welcome the world.
The Opening Ceremony is set for the evening of Friday, August 5, at Maracanã Stadium in Rio. With the lighting of the Olympic cauldron at the ceremony's conclusion, the 2016 Olympic Games will be declared officially open.
The production will celebrate South America's first Olympic Games and showcase the unique culture and history of Brazil. Several Brazilian artists will perform, including samba legend Elza Soares and 12-year-old rap prodigy MC Soffia.
Models Gisele Bündchen and Lea T, as well as famed singers Gilberto Gil and Caetano Veloso, are also scheduled to make an appearance.
The show, which has creative direction from Brazilian directors Fernando Merielles (City of God), Andrucha Washington and Daniela Thomas, will begin at 8 p.m. (local time). It will air on NBC with hosts Matt Lauer, Meredith Vieria and Hoda Kotb, on a one-hour tape delay at 8 p.m. ET. The spectacle is expected to be seen by three billion people around the world.
Leading Team USA into the Parade of Nations will be the most decorated Olympian of all time, swimmer and 22-time Olympic medalist Michael Phelps. This ceremony will be Phelps' first, as he did not participate in the festivities in 2000, 2004, 2008 or 2012 in order to rest for the following day's competition. (This year his first individual event is not until Monday, as he will not compete in the 4x100m individual medley).
With his appearance in Rio, Phelps becomes the first American male swimmer to qualify for a fifth Olympic Games.
"I'm honored to be chosen, proud to represent the U.S., and humbled by the significance of carrying the flag and all it stands for," Phelps said. "For Sydney, I just wanted to make the team. For Athens, I wanted to win gold for my country. For Beijing, I wanted to do something nobody else had done. In London, I wanted to make history. And now, I want to walk in the Opening Ceremony, take it all in, represent America in the best possible way and make my family proud. This time around, it's about so much more than medals."
Team USA's Opening Ceremony uniforms were unveiled last Friday, featuring a classic, All-American look by Ralph Lauren. The U.S. delegation will be outfitted in a deep navy blazer, a classic striped T- shirt and white denim jeans in a polished ensemble.
Phelps' flag bearer uniform will be particularly unique, with electroluminescent panels that illuminate key elements of the jacket's design.
The Maracanã stadium, where the ceremony will be held, it located in the northern part of the city. One of the most famous sport stadiums in the world, it will host the semifinals and finals of the men's and women's soccer tournaments in addition to the Opening and Closing Ceremonies. The iconic venue was originally constructed for the 1950 FIFA World Cup, and later modernized for the 2014 FIFA World Cup.