U.S. Olympic & Paralympic Foundation News
Witnessing your impact: What it's like to cheer on Team USA in person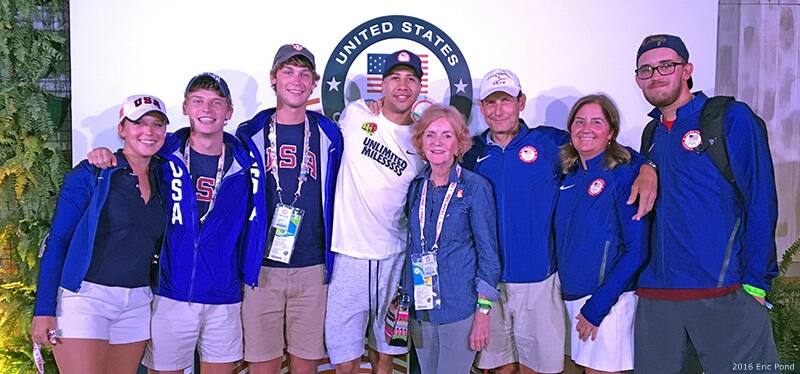 The Baekgaard family with foil fencing bronze medalist Miles Chamley-Watson (in white). Barbara Bradley Baekgaard, center, invited Chamley-Watson to her Thanksgiving dinner.
Every two years, Olympic fans around the world gather to watch on television as their heroes compete on sport's biggest stage.
It's one thing to support Team USA from home.
But it's quite another to do so in person, when the athletes can hear you cheering from the stands.
"I'm here in Rio, and we have nine of us here in my family," said Barbara Bradley Baekgaard, who has given generously to support Team USA through her family foundation. "I have loved it, and we're already talking about Tokyo 2020. I just can't imagine anything more fun and more impressive."
Baekgaard, the co-founder of Vera Bradley, has witnessed some incredible Team USA moments while in Rio. She and her family saw the last race of Michael Phelps' storied swimming career, a gold-medal performance by long jumper Jeff Henderson in track and field, a 1-2 finish by Simone Biles and Aly Raisman in the women's gymnastics individual all-around final, and the hometown party atmosphere of the Olympic beach volleyball arena.
She even had the chance to meet fencer Miles Chamley-Watson, who lives near her home in New York and won a bronze medal in the men's foil team event.
"I happen to have been a fencer on a much lower level when I was young, so I love that sport," Baekgaard said. "It was just amazing."
She ended up inviting Chamley-Watson to her Thanksgiving dinner.
More than 100 families are experiencing the Rio Games up-close and personal as guests of the U.S. Olympic and Paralympic Foundation. In addition to attending competitions, guests have had opportunities to visit NBC's Today Show set on Copacabana Beach, tour Team USA's Rio-based high performance training centers, taste authentic Brazilian cuisine and more.
They have spent time with U.S. Olympians throughout their experience – including legends of past Games, winter-sport athletes, and 2016 team members who had wrapped up competition.
Two-time Olympic bobsled medalist Elana Meyers-Taylor and her husband Nic Taylor, an Olympic hopeful in bobsled and skeleton, spoke with guests at a reception about the impact of their generosity on Team USA.
At the Sochi 2014 Olympic Winter Games, Meyers-Taylor and her brakeman crashed in a practice run. With their sled shattered, they faced the possibility of dropping out of the competition before it even started.
"They're very expensive sleds, and we only had one. My sled was completely destroyed, and we didn't know if we could get it back together," Meyers-Taylor recounted. "Our techs had no idea what to do."
Ultimately, U. S. Olympic Committee staff members used parts from a display sled at USA House to quickly rebuild Meyers-Taylor and Williams' machine.
"With the help of everyone at the USOC, they made it happen – literally rolled the sled through Olympic Park during the middle of the day and recrafted my sled completely from that display sled," Meyers-Taylor said.
"Thanks to your support, we were able to put the sled back together and win a silver medal at the Olympics. That really just goes to show you how important it is, the Team Behind the Team. It's not just about the athletes competing. If it was just about me, I wouldn't have had a sled. But it's the people who make this happen – the dollars, the support, the actual physical labor that go into each athlete's journey."
Meyers-Taylor's story is just one of the many that have been made possible by donors to the USOPF.
Six-time Olympic swimming medalist Missy Franklin also made a surprise visit to USA House to speak with guests. She had an equally gracious message for the group.
"I feel so blessed and grateful to the USOC for all the support that we've gotten as athletes here," Franklin said. "It's awesome, all the preparation that's gone into this. The Athlete Village was set up exactly the way we needed it to be, and all the help that we've gotten since we've been here has been incredible."
On Wednesday the USOPF will welcome its third and final group of guests, who will watch the remaining five days of competition in Rio before attending Closing Ceremony.
Interested in joining the U.S. Olympic and Paralympic Foundation at the 2018 Olympic Winter Games? Contact Games Hospitality Director James Bjorklund at James.Bjorklund@usoc.org.