U.S. Olympic & Paralympic Foundation News
"Anything can happen": Casey Eichfeld to chase two Olympic medals while Devin McEwan lives out father's legacy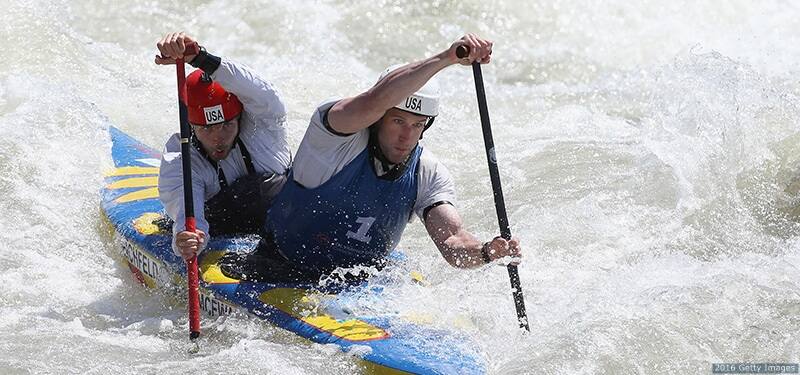 Casey Eichfeld (left) and Devin McEwan won the 2016 U.S. Olympic Trials for canoe slalom doubles in May in Charlotte, North Carolina.
Entering the final phase of the 2016 U.S. Olympic Trials for Canoe/Kayak in May, Casey Eichfeld already knew he had a spot on Team USA.
Eichfeld had punched his ticket to Rio – what will be his third Olympic Games – in the men's single canoe at the first phase of Trials in April.
Still, he wouldn't be satisfied unless his longtime friend and doubles canoe partner, Devin McEwan, could come along too and make his Olympic debut.
"I was already assured a spot for C-1, but I really wanted to bring Devin to the Games with me," Eichfeld said. "I wanted to share that experience with him. It is really something to be able to share such an intense experience with someone you have known for most of your life."
At May's Trials for C-2 in Charlotte, North Carolina, Eichfeld and McEwan finished first. Still, they had to wait for a decision from the International Canoe Federation regarding which countries would receive the remaining quota spots.
That decision ultimately came 15 days later, at the conclusion of the European Championships – and it was good news for the Americans.
"It was a suspenseful couple of weeks, but there was relief in at least knowing that the part of the Olympic selection process over which we had any control was over," McEwan said. "The hardest part for me was coming up with a response to the question, 'So, are you going to the Olympics?' I'm glad I can finally just answer 'yes'!"
With the C-2 qualification, Eichfeld will become the first U.S. canoeist in history to compete in two disciplines at a single Olympic Games.
"This is my third Olympics, and I am very hungry for medals," Eichfeld said. "We will see what happens, but we know where the goal is, and we will do our best to make it happen."
The call to Team USA is particularly meaningful for Devin McEwan, whose father Jamie McEwan was a two-time U.S. Olympian in 1972 and 1992. Jamie won a bronze medal in singles canoe at the 1972 Games.
"It's more important to me to be following in my dad's footsteps as a canoe slalom athlete in general than specifically as an Olympian," Devin McEwan said. "But symbolically, it's cool to be paralleling his career somewhat."
Devin grew up surrounded by his father's passion for whitewater, getting his first taste of the sport from the bow of Jamie's doubles canoe at age 6.
"I'm not sure it was my dad's Olympic history per se that inspired me to compete, but rather his abiding and contagious love for the sport," Devin McEwan said. "So much so that his success in international competition seemed almost incidental."
After competing in doubles with his son throughout the 2000s, Jamie was diagnosed with multiple myeloma in 2009 and passed away in 2014.
"My dad was my hero both on and off the river, but he was also an amazing C-2 partner, traveling companion and friend," Devin McEwan said. "Being on the 2001 National Team with him was quite possibly the best experience of my life. And these days, it's when I'm on the river that I feel closest to my dad."
Today, internationally competitive U.S. canoe and kayak athletes benefit from an endowment fund named in honor of Jamie McEwan.
That fund, established by the McEwans' family friend Mike Keiser shortly after Jamie's passing, helps to cover some of the costs athletes face as they train and race around the world.
"We compete in an amazing sport, but it is an amazing sport that doesn't have much visibility," Eichfeld said. "We pay 90 percent of our own way. Expenses include buying and maintaining boats, paddles and gear, in addition to travel, room and board."
And for a sport like canoeing, traveling isn't as simple as packing a carry-on. Shipping fees for boats, which come along on every trip, add up quickly.
"Major competition always takes place internationally, so airfare and boat travel fees are very common for us," Eichfeld said.
The Jamie McEwan Canoe and Kayak Endowment will pay out in perpetuity, helping Team USA hopefuls offset these expenses for years to come.
For Devin McEwan and Eichfeld, though, all focus is on August 2016. McEwan has the chance to share his father's title as Olympic medalist, while Eichfeld could bring home an unprecedented two medals in canoe for Team USA.
The duo has not placed higher than 12th on the world cup circuit during this Olympic cycle. Still, they took home gold at the Toronto 2015 Pan American Games and have won the U.S. National Team Trials for the past three years.
"The amazing thing about competing in high-level sport is that anything can happen, and I feel like there is no better example of that than the Olympics," Eichfeld said. "We are racing for the podium, but I think that is instinct for us as athletes – we don't get in a start gate without our eyes on gold."
McEwan and Eichfeld compete in the preliminaries from August 7-8 at the Whitewater Stadium in Deodoro Olympic Park.