U.S. Olympic & Paralympic Foundation News
USOPF Trustee Johnathan Robertson hosts Team USA supporters in Miami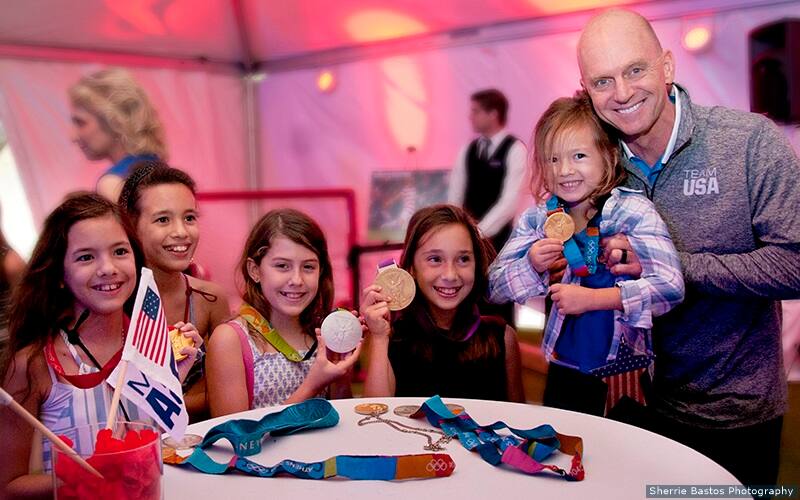 Three-time Olympic gold medalist Rowdy Gaines (swimming, 1984) and several other Olympic and Paralympic medalists put their hardware on display at a celebration of Team USA in Miami.
U.S. Olympic and Paralympic Foundation Trustee Johnathan Robertson was first motivated to support the USOPF when he learned that, unlike most of their international competitors, U.S. athletes receive no government funding. In fact, Team USA's financial resources are drawn entirely from corporate sponsorships and private donations.
"That creates a real funding need, particularly in the period of time after college scholarship support ends for many aspiring Olympians and Paralympians," Robertson said. "That need combined with the ideals of the Olympics and Paralympics is what motivated me to get involved as a Trustee and host the event in Florida."
In hopes of sharing that mission with others in his personal and professional networks, Robertson hosted nearly 170 guests for an Oct. 14 event at Acqualina Resort on Miami Beach.
Several U.S. Olympic and Paralympic medalists were in attendance, including swimmer Rowdy Gaines, soccer player Christie Rampone, gymnast Carly Patterson, fencer Daryl Homer and Paralympic archer Matt Stutzman.
"We had three goals for the event," Robertson said. "The first was to introduce participants to Olympians and Paralympians so that they could hear firsthand the athletes' unique journeys to becoming world class in their sport. A second goal was to raise awareness about how we organize and support the Olympic Movement in the United States, and the third goal was to inspire those attending to get involved and support the USOPF in whatever way might be meaningful to them."
The family-friendly event included an athlete panel and question-and-answer session, as well as interactive sport demonstration stations. Patterson's station included personal instruction on a balance beam, while Rampone played one-on-one soccer with guests using a pop-up net.
Homer, a saber fencer who won silver in Rio after placing sixth at the London Games, brought his equipment so attendees could try their hand at fencing.
"When Daryl spoke at the event, he emphasized that Olympic fencers lose more than they win as they train and prepare for the Olympics," Robertson said. "While that's not as glamourized as a winning Olympic performance, all of the behind-the-scenes hard work the athletes and USOC staff put in is what I find most compelling about the Olympic Movement."
Guests even had the opportunity to see a live archery demonstration by Paralympic silver medalist Stutzman. Nicknamed the "Armless Archer", Stutzman uses his shoulder to pull the arrow back, his leg to hold the bow and his chin to release the arrow.
"Matt was born without arms and has found ways to do almost everything in life with his legs and feet, including archery," Robertson said. "He earned a silver medal at the London 2012 Games and was leading in Rio with one arrow to go, when the nock on the end of the arrow inexplicably broke causing him not to medal. Watching the way Matt conducts his life and handled that setback in Rio serves as a terrific example of how to face up to, and fight through, adversity."
In addition to interacting with athletes, guests also heard firsthand from USOPF president Jon Denney. Denney reflected on Team USA's performance at the Rio 2016 Games, explained how financial resources are spent to maximize athlete performance, and previewed the upcoming PyeongChang 2018 Olympic and Paralympic Winter Games.
Denney pointed out the recent performances of Team USA's women, who earned 61 of the 121 U.S. Olympic medals in Rio. He also emphasized the impact of college athletics, pointing out that 83 percent of the nation's 2016 Olympic medalists were or had been NCAA athletes.
Perhaps most importantly, the event in Miami helped to connect Team USA fans and build a lasting base of support in that region for America's athletes. Many guests were introduced to the work of the USOPF for the first time, while others experienced the Team USA spirit in a more meaningful way than ever before.
The U.S. Olympic and Paralympic Foundation is beyond grateful to Trustee Johnathan Robertson for his leadership and generosity. The night at Acqualina perfectly encapsulated and showcased the Olympic and Paralympic movement, and clearly demonstrated the importance in helping support our Team USA athletes.
It was an engaging, inspirational and informative evening for all – and Team USA gained a few more supporters along the way.
Are you interested in supporting Team USA? Make a donation today or email foundation@usoc.org for more ways to become involved with the U.S. Olympic and Paralympic Foundation.