U.S. Olympic & Paralympic Foundation News
With donor support, FLAME welcomes students to Olympic Movement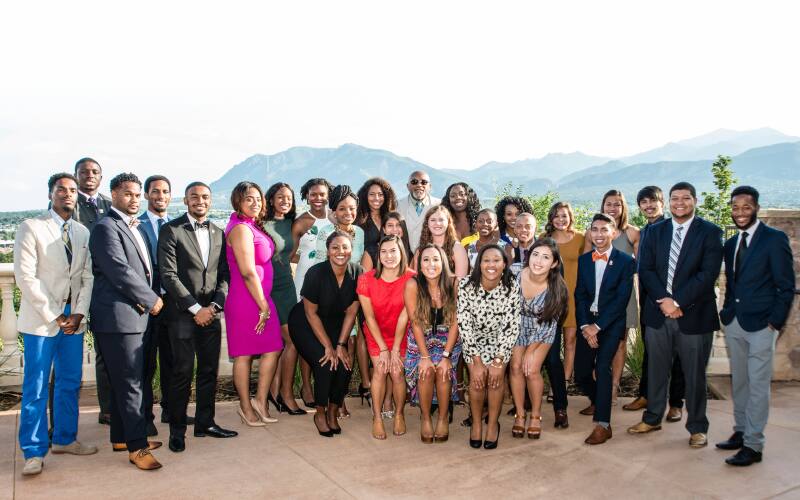 FLAME participants pose with Tommie Smith, 1968 Olympic gold medalist in the 200m and founding member of the Olympic Project for Human Rights.
Like most ambitious young professionals, Destiny Morton has a few major career goals in mind. But unlike a lot of her peers, she can tell you exactly what job she one day hopes to hold, down to its duties and title.
"I plan on being director of meeting and event services [at the United States Olympic Committee] one day, just being a part of all the ancillary events and the down time as well as helping put on the actual Games," Morton says. "I want to work for the USOC to serve my country."
Morton is one of 30 college-age professionals to attend this year's FLAME Program, short for Finding Leaders Among Minorities Everywhere. She received her bachelor's degree from the University of Alabama and her master's in sport and fitness administration from the University of Houston, credentials that helped her stand out in a pool of about 120 applicants.
Over the course of a rigorous seven days, FLAME attendees spend time networking with USOC employees, learning transferrable professional skills and hearing from some of the Olympic Movement's finest.
"It's been a dream of mine since high school to work for this organization, but I just couldn't find an 'in,'" Morton says. "With FLAME, I was able to have genuine connections with hiring managers across every department. Now I know that when I apply again in the future, I can guarantee my application is given a competitive chance."
As the USOC's Director of Diversity and Inclusion, Jason Thompson is in his fourth year at the helm of FLAME. Each summer, students arrive eager to learn and leave with an idea of what it takes to succeed – and a host of new connections that might help them along the way.
"They're very polished. They very much want to be part of the Olympic Movement, so it's motivational for us," Thompson says. "I think sometimes when you work here for a long time, you forget how amazing this place is. Every day is amazing. They remind you how lucky you are to be here, how our mission is so valuable and how many lives it touches."
Since its inception 24 years ago, FLAME has expanded from a three-day event to a more academic, tuition-based, weeklong stay at the Olympic Training Center in Colorado Springs.
A new hallmark of the program is the diversity and inclusion group project that attendees prepare for different national governing bodies across the Olympic Movement. After a week of participating in roundtable discussions and hearing from keynote speakers, the students reverse roles with USOC and NGB representatives to offer suggestions on how to make their organizations more diverse.
"We had the U.S. Olympic [Committee] Executive Board come talk to us," says Sherrelle Jordan, a FLAME attendee and recent alumna of Nova Southeastern University. "We did an activity where we had 25 minutes to talk to them, and the feeling that I got from them is that they really wanted to educate us on the departments that they serve, and what it is that they're doing to try to make the entire Olympic Committee better and more diverse."
The program sometimes acts as a pipeline to do just that: Three of the program's volunteers are FLAME alumni who moved on to careers within the Olympic Movement.
World-class speakers shape students' FLAME experience
This year, with the support of generous U.S. Olympic and Paralympic Foundation donors, Thompson welcomed track and field Olympians John Carlos and Tommie Smith to Colorado Springs to speak with students about what diversity means to them – nearly 50 years after their gloved-fist salutes atop the podium in Mexico City.
In addition to Carlos and Smith, FLAME students also heard from former NBA journeyman Jason Collins, whose speakership was made possible by Drs. Tej and Simran Singh's gift directed to the U.S. Olympic and Paralympic Foundation's Diversity and Inclusion initiative. Collins made history in 2013 when he came out as gay, becoming the first athlete active among the four major North American professional sports leagues to do so.
Collins' keynote speech about overcoming obstacles in pursuit of a more inclusive and accepting world resonated with Jordan, who said the speakers were her favorite part of FLAME.
"I love how our guest speakers are so open and authentic, and they're really presenting their genuine selves to us about social inequality, race relations, poverty, sexual preference… issues that they hold dear to their heart," Jordan says. "For them to open up to a group of students [when] they have no idea who we are, and just to be true and genuine, I really appreciate that."
As the program grows, Thompson's aim is to ensure that FLAME offers plentiful opportunities to connect with donors and introduce them to the Olympic Movement. Donor support allows Thompson to not only invite world-class speakers to connect with students, but to offer more program scholarships to those who need them.
It was a scholarship that helped Morton live out a lifelong dream of networking with people she hopes to one day call co-workers.
"I personally received financial assistance to be here, and that really speaks to me that people are putting their money where their mouth is and not just wanting to see change and talk about it," Morton says. "They're actually doing something about it."
"Their money could go anywhere, and the fact that they're investing their money into a growing population, it shows that they care about [our] concerns," Jordan adds. "They're providing resources to us so that we can better our future, and it's like a domino effect … When we get older, we're in a position to donate money and be sponsors for future FLAME participants."