U.S. Olympic & Paralympic Foundation News
Gordy Crawford, U.S. Olympic and Paralympic Foundation chairman, donates Olympic collection to U.S. Olympic Committee
by U.S. Olympic and Paralympic Foundation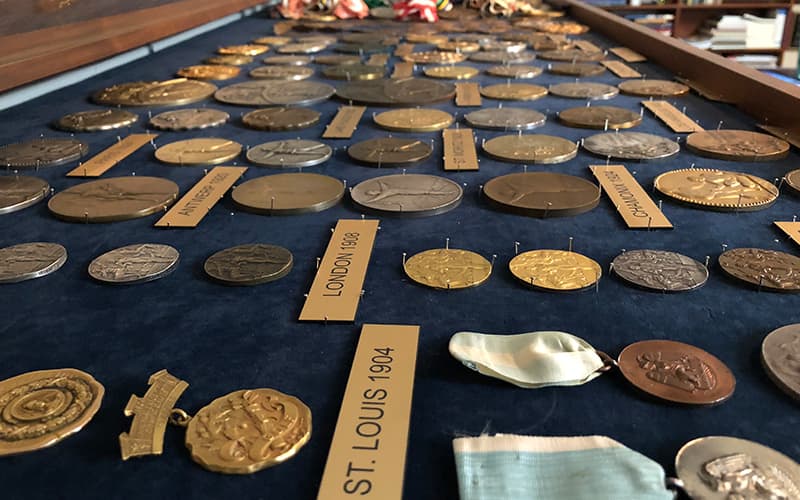 A selection of Gordy Crawford's participation medals, which he donated to the U.S. Olympic Committee in August 2018, on display at his home in Los Angeles, California. Photo by Eric Pond.
Colorado Springs, Colo. — The United States Olympic Committee announced today that Gordon ("Gordy") Crawford, chairman of the U.S. Olympic and Paralympic Foundation, has donated his private collection of Olympic artifacts to the organization. The collection, which arrived at USOC headquarters on Aug. 23 is one of the largest privately held curations of Olympic history in the world and includes rare Olympic Games torches, prize medals and participation medals.

The USOC will loan items from Crawford's collection to the U.S. Olympic Museum, where they will be shared with the public. The museum is currently under construction in Colorado Springs and set to open in 2020.

Among other factors, Crawford's collection is distinguished for its complete set of Olympic torches dating back to the 1936 Olympic Games in Berlin and full set of prize medals dating back to the 1896 Games in Athens. Additional highlights include a Helsinki 1952 relay torch –one of only 22 made – and a very rare torch from Stockholm that commemorated the 1956 Games. Stockholm hosted the equestrian events for the Olympic Games Melbourne 1956 due to an Australian quarantine on foreign horses.

"This gift from Gordy is striking both in its generosity and in the profound impact it will have on fans of the Olympic Games – both current and in the future – who will be able to experience its rich history," said USOC CEO Sarah Hirshland. "We thank Gordy for this wonderful donation, and for his continued support of Team USA and the Olympic and Paralympic movements."

Having served as USOPF chairman since 2013, Crawford has overseen significant growth in both the number of donors who are giving to Team USA athletes and in philanthropic resources raised for U.S. Olympians, Paralympians and hopefuls.

Additionally, in 2012, Crawford spearheaded the construction of the Crawford Family U.S. Olympic Archives, housed on the second floor of the USOC's headquarters in Colorado Springs. The 5,045-square-foot archives hold nearly 11,000 Olympic and Paralympic artifacts, including ceremony and sporting uniforms, images, documents, pins, medals and more. In addition to preservation, the archives serve as a repository for U.S. Olympic and Paralympic artifacts and a resource for historians and researchers.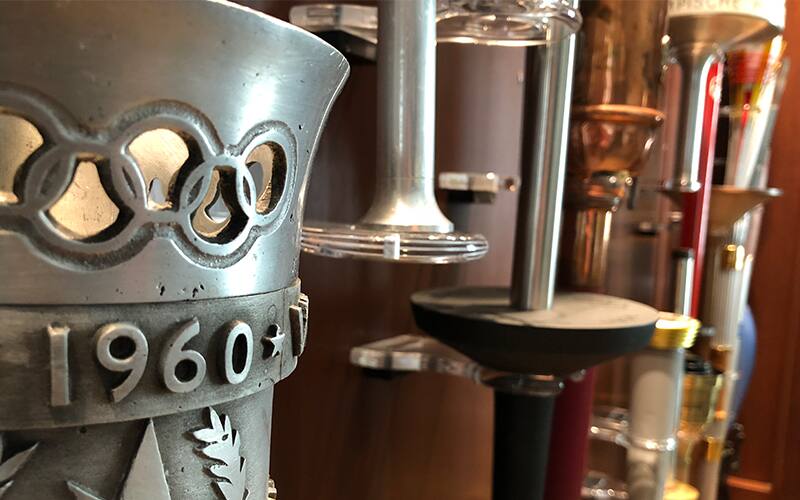 Crawford's collection is one of the only private curations in the world to contain a complete set of Olympic torches.
"We are thrilled that in addition to his service to the Olympic and Paralympic movements as chairman of the USOPF, Gordy has chosen to support Team USA in this unique and special way," said USOPF President Jon Denney. "His commitment and leadership over the last five years has been invaluable, and I look forward to continuing our important work of supporting the American athletes who motivate us all to pursue excellence."

USOC Archivist Teri Hedgpeth facilitated the transfer of Crawford's collection from his home in Los Angeles to Colorado Springs, overseeing the physical relocation and cataloguing each item within the collection. The artifacts will be under her care at the Crawford Family U.S. Olympic Archives, where the collection will be permanently housed when not on public display.

"Speaking as a caretaker and preservationist of Olympic and Paralympic memorabilia, Gordy's collection is truly priceless," said Hedgpeth. "We feel honored that he's entrusted us with the care of his precious artifacts that commemorate the rich history of the Olympic Games and mark the achievement and hard work of generations Olympic athletes."