U.S. Olympic & Paralympic Foundation News
Fencer Jason Pryor looks forward to "mini-Olympic" experience at Pan Am Games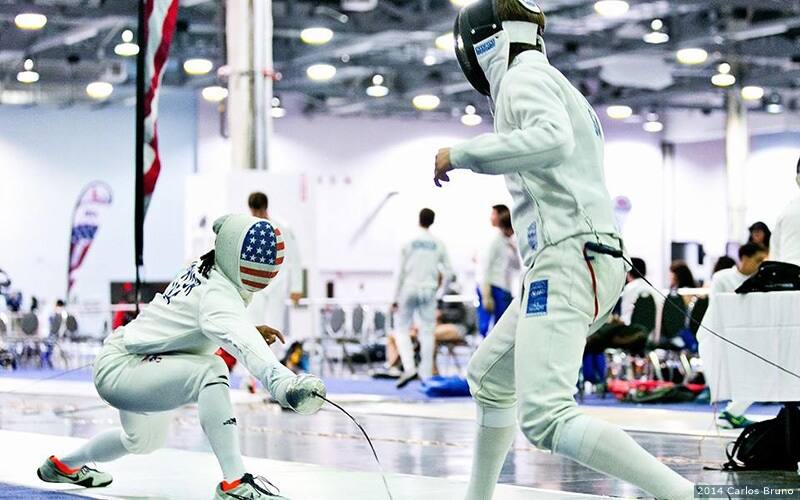 Epee specialist Jason Pryor (left) is the defending U.S. national champion and a hopeful for the 2016 U.S. Olympic Fencing Team.
A young Jason Pryor first took up fencing because he found team sports too frustrating.
"I used to do the equivalent of little league soccer where I'm from," Pryor said. "But I wasn't very into it because you have to rely on other people to win, and I had a couple seasons where my team did very badly. I wanted to quit. My parents told me I could, but I would have to choose another sport."
Fencing it was. That was 16 years ago.
Today, Pryor is a member of the U.S. Men's Senior Epee Team. He is a resident athlete at the U.S. Olympic Training Center in Colorado Springs and a hopeful for the 2016 Olympic Games in Rio.
The Cleveland native is currently ranked among the top-50 epee fencers worldwide and is also the 2015 U.S. National Champion. A 2009 graduate of The Ohio State University, Pryor was a star fencer for the Division I Buckeyes and led the team to an NCAA title in 2008.
As he works toward the 2016 Olympic Games, Pryor will first make a stop at the 2015 Pan American Games, which are set for July 10-26 in Toronto. He and his teammates will face off against top zonal competitors like Venezuela, Cuba and Canada in hopes of bringing home team and individual gold medals.
The U.S. fencers won't arrive in Toronto until just before their competition begins on July 20, because the FEI World Fencing Championships are being held July 14-18 in Moscow, Russia.
"The preparation is similar for all of our tournaments because we don't really have huge breaks during our season," Pryor said. "It's really staying the course and trusting the training so that we're prepared to go in a steady line for all of our competitions throughout the year."
Although the Pan American Games have no direct influence on qualification for Rio 2016, Pryor expects the competition to be good mental preparation for what he might face at the Olympic level.
"It's a great opportunity," Pryor said. "I've heard about how prestigious the Pan Am Games are and how it's like a 'mini-Olympics,' so it's a great place to sort of prepare for the scope of what would be happening in the Olympic Games."
Pryor is used to training alongside athletes from a variety of Olympic sports, however. As a resident at the U.S. Olympic Training Center in Colorado Springs, he shares a strength and conditioning gym, dining hall and living quarters with athletes who run the gamut from boxing to bobsled.
"(The OTC) is great because it centralizes everything," Pryor said. "We have access to a strength coach, Amanda Wittenmyer. And then being able to go into sports med right after practice and get in a recovery is huge."
Pryor doesn't take those resources for granted. He and his teammates cross-train in the gym several times per week, and they consider recovery a crucial aspect of their training.
As Pryor dials in on the upcoming world championships, Pan Am Games and, ultimately, Rio 2016, one thing is clear – he's up for the challenge.
____________________________________________________________________________________________________________
Your support helps fuel athletes like Jason Pryor as they work toward their Olympic and Paralympic dreams each day. By giving to the U.S. Olympic and Paralympic Foundation (USOPF), you can help underwrite many of the United States Olympic Committee's high-performance initiatives, including athlete financial aid and operations at the three official U.S. Olympic Training Centers. Please consider making a gift to the USOPF today.