U.S. Olympic & Paralympic Foundation News
At Pan American Games, bar to be set high for gymnast Paul Ruggeri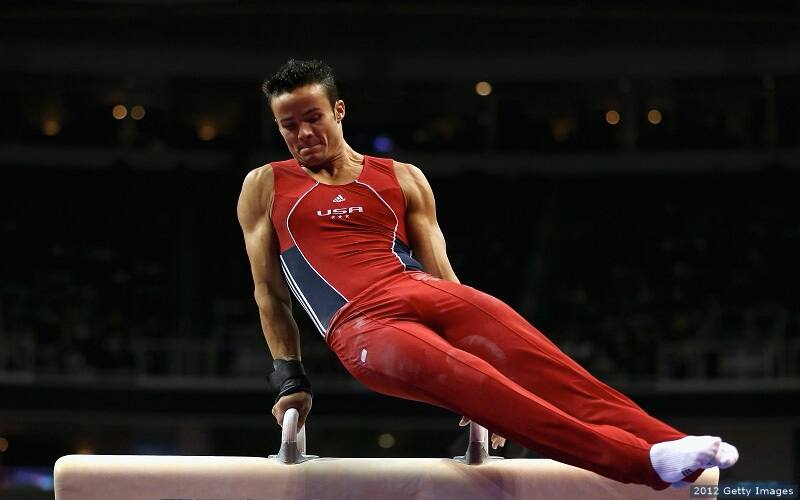 Paul Ruggeri competes at the 2012 U.S. Olympic Gymnastics Team Trials. Ruggeri will represent Team USA at the 2015 Pan American Games in Toronto, Ontario, in July, and is aiming to make his first U.S. Olympic Team in 2016.
United States gymnast Paul Ruggeri III remembers the 2011 Pan American Games in Guadalajara, Mexico, as one of the biggest successes of his international career. There, Ruggeri earned three medals for Team USA, including a gold in the high bar.
He'd like to defend that title at the 2015 Pan American Games, which are set for July 10-26 in Toronto. This year, however, Ruggeri expects the competition to be much fiercer.
"It will definitely be a dogfight. I don't have as clear-cut of an advantage as I did back then, because of the way that the rules are set up now." Paul said. "This year I'll be battling a bunch of guys who have really high star values on high bar, including the Americans, so it could be anyone's game."
Because of the timing of this year's edition, the Pan Am Games in Toronto will be a new experience for Team USA's gymnasts.
"This summer is actually kind of different because the last time I went to the Pan Am Games, it was in the fall." Paul said, "Which meant that it conflicted with the world championship schedule."
The scheduling conflict meant that Team USA had to split its athletes into two teams in order to have a presence at both events. Ruggeri affirmed that this year's team will be stronger than the 2011 roster.
"This year we are sending a pretty powerful team to Pan Ams, and I'm just excited to be a part of it. "
Team USA won 18 medals – including nine golds – to finish atop the overall medals table at the 2011 Pan Ams in Guadalajara. Because of the added firepower in the lineup, Ruggeri has even higher hopes for Toronto.
"Definitely the main goal would be to win, and beat out everyone that's there." Ruggeri said. "I think our main competition is going to be the Brazilian team. They are actually pretty strong, and have a lot of talent as well."
Winning gold in Toronto is just one stop on the longer road to the Rio 2016 Olympic Games, as Pan Ams are a valuable tool to measure progress for teams and individual athletes. After winning gold in the team event at the 2011 Pan Ams in Guadalajara, the U.S. men went on to place third as a team at the London 2012 Olympic Games.
"It is an important checkpoint for us, because we have so many good guys in the U.S. right now that could make up so many different teams." Paul said. "[In Toronto it will be] me, Marvin (Kimble), Donnell (Whittenburg), John (Orozco) and Sam (Mikulak). The five of us have never competed as a team before. It will be a good test to see how we go out there and perform compared to the teams that have gone before us."
Despite all the pressure on the team's shoulders, Ruggeri said he cannot wait for the experience of the Pan American Games – and he is honored to have the chance to once again represent Team USA.
"It is an honor; I never expected to become this level of a gymnast," Ruggeri said. "I was always just doing it because I loved it. I knew I was talented, but I was just doing what I loved. To have all of the opportunities that I've had has just been an honor, and something that I will never be able to forget."
____________________________________________________________________________________________________________
Your support helps fuel athletes like Paul Ruggeri as they work toward their Olympic and Paralympic dreams each day. By giving to the U.S. Olympic and Paralympic Foundation (USOPF), you can help underwrite many of the United States Olympic Committee's high-performance initiatives, including athlete financial aid and operations at the three official U.S. Olympic Training Centers. Please consider making a gift to the USOPF today.