U.S. Olympic & Paralympic Foundation News
Once a homeless teenager, Paralympian Tahl Leibovitz embraces new career in social work while training for Rio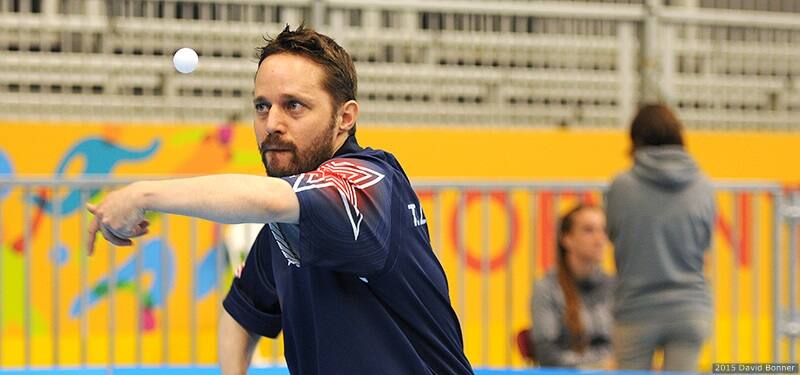 Tahl Leibovitz competes at the Toronto 2015 Parapan American Games, where he won a gold medal and earned his spot on the 2016 U.S. Paralympic Team.
As a teenager living on the streets of New York, Tahl Leibovitz found it difficult to imagine a very bright future.
Leibovitz' parents, who struggled with substance abuse and mental illness, kicked him out of his home when he was 13. Unable to keep up his studies, he dropped out of middle school. Soon, to stay warm at night, the would-be seventh grader was sleeping on the city subways.
One day, Leibovitz wandered into the South Queens Boys and Girls Club to participate in a program for at-risk youth. There, he learned to play table tennis for the first time.
Though he didn't know it at the time, that experience would lead him down an extraordinary path.
Leibovitz quickly developed a talent for the sport of table tennis, and was soon entering domestic and international competitions. Still homeless, he split his time sleeping on the trains and practicing at the table tennis club.
In 1995, Leibovitz crossed paths with Chris Lehman, a coach of the U.S. Paralympic Table Tennis Team. He learned that a condition he had lived with all his life – osteochondroma, characterized by sometimes-painful noncancerous bone tumors – could make him eligible to compete in Paralympic competitions.
The following year, he qualified to represent Team USA in table tennis at the Atlanta 1996 Paralympic Games – and won a gold medal.
As he began to take the sport more seriously, Leibovitz' future became a little brighter. He was finding success at the highest levels of table tennis, and yearned to be successful in other areas of his life as well.
Still without stable housing, Leibovitz worked toward his GED and enrolled at the local Queens College. Having never attended high school, he ultimately earned two bachelor's degrees in sociology and philosophy as well as a master's degree in urban affairs.
From there, he was admitted to the New York University Silver School of Social Work, where he earned a second master's degree in 2015.
Throughout his studies, Leibovitz has continued improving on the table tennis court – and today, he has the distinction of being a four-time U.S. Paralympian and the defending gold medalist from the London 2012 Games.
With his exceptional athletic and educational resumes, Leibovitz always knew there would be more to his life than table tennis.
Motivated by his personal hardships and the substance abuse struggles of his family and several friends, Leibovitz became passionate about pursuing a career in social work.
He reached out to the USOC's Athlete Career and Education Program, designed to support U.S. athletes as they plan for success beyond sport.
Launched in 2014 with the expertise of the USOC's career services sponsor Adecco, the ACE Program has provided more than 1,000 athletes with job placement and professional development support over the past two years.
Through regular meetings with Adecco career coach Angel Bovee, Leibovitz learned the basics of resume building, interviewing and networking.
"Tahl was the dream athlete. He came to us with an impressive set of credentials, and the only thing he didn't have was a lot of job experience," Bovee said. "Through the ACE Program he received help creating his resume and cover letter, practice sessions with his interviewing skills, and job placement assistance.
"We sent him a variety of open jobs and helped him network with the agencies he completed his internships with, his school career center and his peers. Ultimately Tahl was very coachable and put in the work necessary to get a position he wanted."
Leibovitz recently landed a full-time position at Western Queens Recovery Services, where he works as a substance abuse counselor.
"It's been pretty awesome," Leibovitz said. "I have flexible hours and I start a little later in the day, so I can do my physical training in the morning and practice table tennis at night. My training is more focused – now I'm doing less training, but it has more value and I'm getting more out of it."
Already qualified for the 2016 Paralympic Team, Leibovitz recently competed at the U.S. Olympic Trials. He made it to the round of 16 before dropping a match to the eventual tournament champion.
Bovee, Leibovitz' career counselor through the ACE Program, is a former elite boxer who knows the difficulties of balancing a career outside of sport.
"I had to face a transition just like all these athletes have to face," Bovee said. "Most athletes, I would say, do not plan it. They transition out because of injury, age, or maybe because they can't perform up to that level anymore, so they always go through a very difficult psychological transition. One of the goals of the ACE Program is to help make that transition easier for athletes."
Bovee explained that a typical ACE session differs for each athlete, but could include anything from building a LinkedIn profile to enrolling in a course in entrepreneurial skills.
"Most athletes compete for 10-20 years, and one of the goals of the ACE program is to make sure they are prepared for the next 40," Bovee said. "I call us case managers, because we connect the dots between the network, the resources and the athlete."
The program provides access to more than 3,000 online classes and webinars, which run the gamut from salary negotiation to formal certifications in professional skills.
ACE staff work directly with USOC sponsors and other companies who have a special interest in hiring athletes, while also helping athletes identify connections within their own networks.
"We always try to sell the fact that athletes are top performers in their sport, but they can also be top performers in the workplace," Bovee said. "The soft skills they have – determination, problem-solving skills, teamwork mentality – that make them successful in sport are the very same skills that will make them successful in a job."
The ACE Program has been evolving and expanding ever since its 2014 launch, thanks in part to a $2.75 million investment from the U.S. Olympic and Paralympic Foundation. In 2015 alone, the program successfully placed 241 athletes in stable jobs.
"I think what's most important is that when the USOC offers programs like this, they are really seeing the anatomy of an athlete, and not just someone who is there to win medals," Leibovitz said. "I think it's a really positive program because the USOC is investing time and effort and energy into another dimension of their athletes, which is their life after their athletic career."
The ACE Program is working on several key initiatives for 2016, including an online mentoring program in which athletes can speak one-on-one with top industry executives in a variety of fields. To donate or learn more about the ACE Program, please contact Blanton Jones at Blanton.jones@usoc.org.