U.S. Olympic & Paralympic Foundation News
"It means more than I can put into words": Why supporting the Team USA Fund matters this Giving Tuesday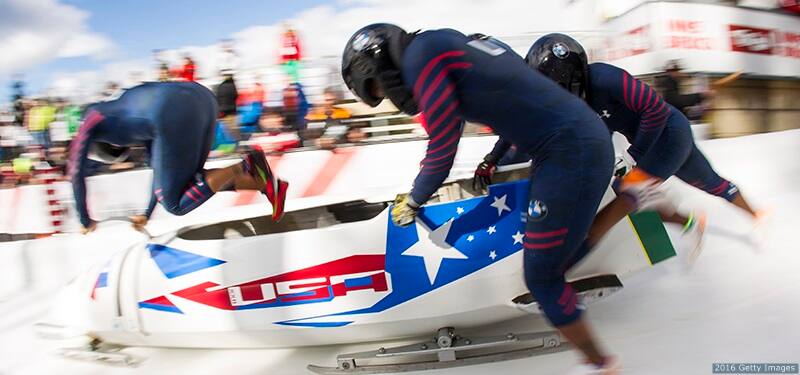 Your donation to the Team USA Fund on Giving Tuesday will be matched, doubling its impact on athletes training for the PyeongChang 2018 Olympic and Paralympic Winter Games.
When Elana Meyers Taylor and Lauryn Williams raced to a silver medal in the two-woman bobsled at the Sochi 2014 Olympic Winter Games, they accomplished a dream come true.
Meyers Taylor earned her second Olympic medal, improving upon a bronze-medal finish with Erin Pac at the Vancouver 2010 Winter Games. Williams, a three-time Olympian in track and field, became the first U.S. woman to medal at both the summer and winter editions of the Olympic Games.
But Meyers Taylor and Williams didn't make it to that podium in Sochi on their own. They were backed by thousands of American fans who, through their donations, make the continued success of Team USA possible.
This Giving Tuesday, you too can become a part of the "Team Behind the Team" by making a donation to the Team USA Fund. In fact, your gift today will be matched – having double the impact on America's Olympians, Paralympians and hopefuls.
Unlike almost all of their international competitors, the U.S. Olympic and Paralympic Teams do not receive funding from the federal government. Instead, Team USA's athletes rely on financial aid from sponsors and donors to make their dreams come true – and ultimately inspire their nation on sport's biggest stage.
But for Meyers Taylor, Team USA's dependence on donor support has a silver lining.
"The benefit of not being supported by tax dollars is that when American fans donate, they are choosing to spend their money to support Olympic dreams," Meyers Taylor said. "They could spend their money on anything – but the fact that they care about how they are represented at the highest level of sport, and they want to be a part of making us great – that means more than I can put into words."
That extra layer of support makes Team USA fans some of the most loyal in the Olympic Movement. Meyers Taylor recalls the moment she was greeted by fans at the airport after returning home from Sochi as one of the best moments of her Olympic experience.
"My flight was delayed, and I had to switch flights and a whole bunch of craziness. I finally made it back to Georgia a little after midnight, when I was originally supposed to be back before 8 p.m.," Meyers Taylor said. "A group of my fans stayed the entire time and waited on me to arrive. I was exhausted, but to see their faces smiling and welcoming me home was magical, and the anxiety from a long day of flying melted away."
The collective efforts of thousands of fans and donors – on Giving Tuesday and beyond – provide Team USA athletes with the resources they need to excel against world-class competition.
Nowhere are those resources more abundant than at the U.S. Olympic Training Centers in Colorado Springs, Colorado, and Lake Placid, New York. At these state-of-the-art facilities, Olympic and Paralympic hopefuls can live, eat, train for their sport, recover and receive sports medicine services all on one campus.
Meyers Taylor's husband, Nic Taylor, is an Olympic hopeful himself in the sport of skeleton. The two athletes met while training for their respective sports, and they motivate each other to chase their goals day in and day out. They spend their summers cross-training and strength-building in Colorado Springs, and a significant portion of their winters training and competing on the bobsled and skeleton track in Lake Placid.
"Imagine waking up each day in your own version of Disneyland," Taylor said. "That is exactly what it's like to be an athlete living and training at one of our training centers. There is nothing like it. I catch myself just looking around and realizing that we – athletes, staff and volunteers – all have one unified dream: excellence at the highest level."
Added Meyers Taylor, "USA Bobsled would not be able to continuously compete at the high level it does without training centers. Bobsledders don't make much money – so without this support, we wouldn't be able to afford the expenses of one of the most expensive Olympic sports and still be able to afford living expenses."
Only 15 months remain until Team USA's winter athletes take their place on sport's biggest stage in PyeongChang, South Korea. At the 2018 Winter Games, Meyers Taylor is aiming for her third consecutive medal – and Taylor hopes to make his Olympic debut.
To put herself in the best possible position on the road to PyeongChang, Meyers Taylor will look to win the 2016-17 World Cup overall title and take home gold at the 2017 World Championships. Taylor, meanwhile, hopes to solidify himself as one of the world's best pushers in the sport of skeleton.
The dynamic duo must stay healthy, focused and at the top of their game – and they are counting on the dedication of American fans to help them do just that.
In fact, Taylor has a special message for fans who do choose to take the extra step of making a donation:
"The life of an Olympic athlete is often lonely. It incredibly easy to get homesick when you are on top of a mountain, in the middle of Germany, thousands of miles away from your family and friends," Taylor said. "But when you realize the amazing journey you're on was made possible by the love and generosity of fans of Team USA, it makes it all worth it. It's a home field advantage I take with me everywhere."
Make a donation to the Team USA Fund today, on Giving Tuesday, and your gift will be MATCHED. Click here to give now, or email foundation@usoc.org to learn about other ways to get involved with the U.S. Olympic and Paralympic Foundation.