U.S. Olympic & Paralympic Foundation News
Where to go from here: For U.S. Olympians and Paralympians, athlete career services provide clarity for life after sport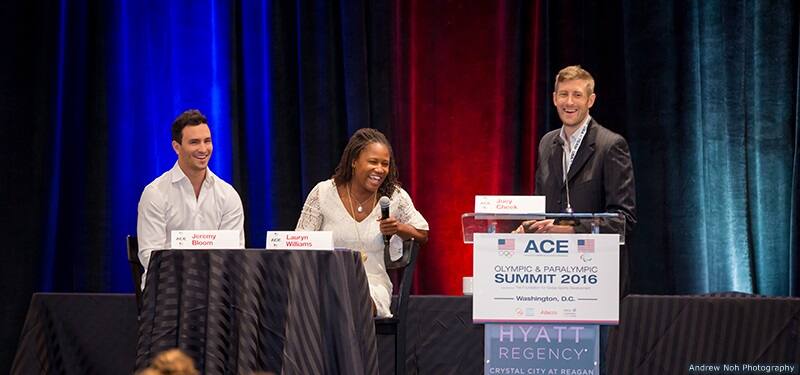 Alongside Jeremy Bloom (left) and Joey Cheek (right), four-time U.S. Olympian Lauryn Williams talks to Team USA athletes about life after sport at the 2016 Olympic & Paralympic Athlete Career and Education Summit in Arlington, Virginia.
Who am I?

Olympian. Bobsledder. Runner.

Lauryn Williams is the first American woman to win medals at both the summer and winter editions of the Olympic Games. She knew these three words described her.

But what else? Beyond her athletic career, who was she really?

On the track, Williams raced to two silver medals in the 100-meter (Athens 2004, London 2012) and a gold in the 4x100m relay (London 2012). She then found success on the ice, winning silver in the two-woman bobsled with Elana Meyers at the Sochi 2014 Winter Games.

When she retired after Sochi, Williams had the urge to stay busy.

"I was worried that sitting on the couch was a bad thing – as an athlete, you're used to being up and going all the time," Williams said. "But the first step I had to take once I finally decided I was ready to find out, 'Who am I?', was to get back on the couch."

Williams wasn't watching TV, though. She made a list of her interests and passions outside of sport (she majored in finance at the University of Miami) as well as her leadership experiences within sport (including as a member of the WADA Athlete Committee and USADA Ambassador's Club). Ultimately, she decided to pursue a career in financial literacy.

"I made a resume, showed up at a place and said, 'I'm ready to work here,'" Williams said. "It was a little unorthodox the way that I approached it, but if people see your passion, they're willing to work with you and introduce you to the field that you're interested in."

Williams now has her MBA in business administration and management and owns her own company. Worth Winning focuses on assisting athletes and other young people in managing their finances as emerging professionals.

Williams participated in a panel in September at the 2016 Olympic & Paralympic Athlete Career and Education Summit presented by the Foundation for Global Sports Development, a three-day program open to all 2016 U.S. Olympians and Paralympians. The Summit, which is held after the Games every two years, aims to provide both currently competing and soon-to-retire athletes with tangible and actionable resources for career and life.

From the vantage point of both an Olympian and a successful entrepreneur, Williams spoke with 212 members of Team USA about their transition to life after sport.

Her first piece of advice, whether an athlete plans to keep competing post-Rio or move on from sport, was to reach out to the USOC's Athlete Career and Education (ACE) Program. In addition to the post-Games Summit, ACE provides year-round services including resume building and interviewing tips, mentoring sessions and assistance finding flexible employment and education opportunities.

"You don't realize how valuable it is to have a whole crew of people supporting you. You have your teammates, you have your coach, you have this whole entourage helping you," Williams said. "You need another team to help you in the next phase of life."


Maximizing every minute

Tavis Bailey, a 2016 U.S. Olympian in discus, is not ready to end his track & field career just yet – but that doesn't mean he's pressing pause on professional life.

In between a full training schedule, Bailey works in sales at a signage company. Outgoing and personable, he excels at – and enjoys – the job. What's more, he's earning an income that both pays for his competition and travel costs and allows him to save to someday buy a home.

"You hear athletes say all the time, 'I don't want a job behind a desk, that's not what I want to do,'" Bailey said. "But in reality, great jobs are behind desks – even the President of the United States has a job behind a desk. There are days when I don't want to make phone calls, I don't want to deal with people. But then I think to myself, 'I want to buy a house, and I want a big TV in that house. So that's my motivation. If track went away today, I would be fine."

In order to balance his training load and competition schedule with work, Bailey maximizes every moment of his time. He treats his hours in the office as recovery time, and eats almost constantly.

"If you hammer a really hard six-hour workout, and then your coach says, 'Now, I don't want you to do anything for the rest of the day. Stay off your feet, stay in a cool, air-conditioned space," Bailey said. "Well, that sounds just like my office."

Bailey is also fortunate to have a manager who doesn't mind him working from home or on the road while traveling. A major initiative of the ACE Program is to identify more workplaces that offer flexible hours for athletes, most of whom travel internationally throughout their competition season.

"Having a job and a company that supports what you're doing is everything," Bailey said. "With a cell phone and a computer, I can do everything that I need to do – so I can leave for four days, and if my manager sees that I'm getting work done, I don't need to take four days of vacation."


A good hire

While the ACE Program helps athletes to identify their interests and hone their skills, it also markets athletes to employers directly. By communicating the value of hiring an Olympian or Paralympian to companies, the program is helping to change the perception of athletes' capabilities off the field.

"Athletes don't have a traditional resume sometimes when they show up at a job, but they do have skills," Williams said. "An employer should be excited to see an athlete walk through their doors. We're performance-oriented, we're goal-oriented, and we're full of discipline. We're coachable; we're ready to learn. We're going to show up to work on time because we were at practice on time, and we're going to be ready to perform to the best of our abilities."

At his job, Bailey has even earned the nickname "Tenacious Tavis" for his ability to go after his goals with more drive than anyone else.

"If you're an Olympian, it's not like you just woke up one day and said, 'I want to do this,' and three days later it happened," Bailey said. "There's a level of determination and tenacity that we offer. And as an athlete, you're used to doing things you don't want to do. So when my boss asks me to do something I don't want to do, like enter these hundred records into the system and it's going to take two days, she's like, 'Yep, well you didn't want to run those wind sprints either!'"

At the ACE Summit, athletes had the opportunity to participate in 16 workshops and breakout sessions with topics such as obtaining sponsorships, managing your finances wisely and building your personal brand. Members of the U.S. Olympic and Paralympic Foundation ACE Working Group acted as professional mentors during practice networking sessions and met as a group to discuss ways to improve the career services available to Team USA athletes year-round.

The transition to life after sport can be difficult for elite athletes for many reasons – mental, physical and financial. The ACE Program aims to help athletes channel all that determination and passion into a new purpose – one that can be just as rewarding as their athletic careers ever were.

ACE is funded entirely through sponsors and private philanthropic support. If you would like to make a gift to support the program or are interested in becoming an employer or mentor, please email Blanton.jones@usoc.org.