U.S. Olympic & Paralympic Foundation News
For the ultimate sports fan, the Olympic Games are a spectacle like no other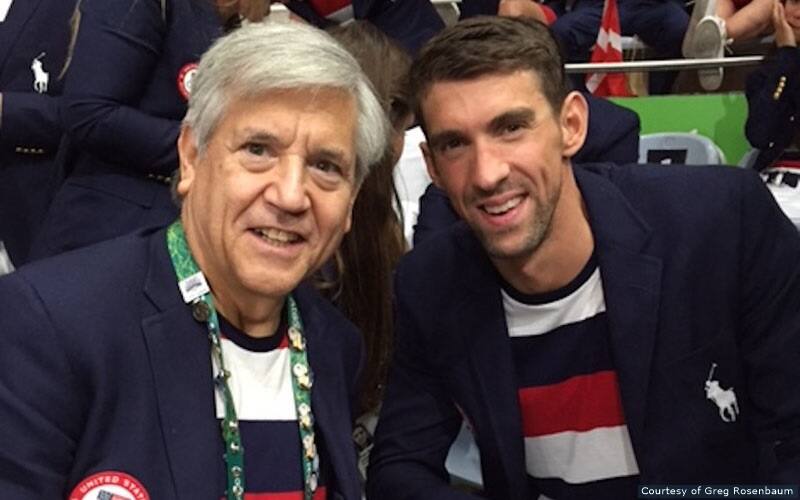 USOPF Director Greg Rosenbaum with U.S. swimmer Michael Phelps before the Opening Ceremony of the Rio 2016 Olympic Games.
Three weeks. One city. Countless world-class sporting events.


For Greg and Marti Rosenbaum, who serve on the Board of Directors for the U.S. Olympic and Paralympic Foundation, this is the draw of the Olympic Games. Greg Rosenbaum is the ultimate sports fan – and what could be better than watching in person as more than 11,000 of the world's best athletes come together to compete for gold?


"The Super Bowl is one game. The World Series is a maximum seven games in 10 days. But you can go to seven events in one day at the Olympics and see world-class athletes competing at the top of their game," Rosenbaum said. "The Olympic Games are the one time you bring BMX, taekwondo, modern pentathlon, track and field, swimming and more together under one umbrella. How can you not like that if you like sports? That's why I keep coming back."


In fact, Rosenbaum has attended five Olympic Games – four summer and one winter edition. In Rio, he was also selected as the Team Leader for U.S. Modern Pentathlon, a unique sport that combines swimming, fencing, equestrian show jumping, running and laser pistol shooting. In that prestigious role, Rosenbaum had the opportunity to march in the Opening Ceremony with Team USA.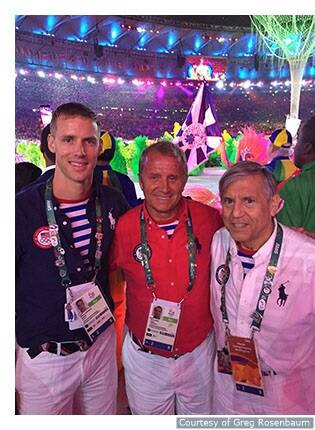 "As a fan, getting to be on the inside is something that I never actually could have dreamed of," Rosenbaum said. "Being able to march with the U.S. Olympic Team into the stadium at the Opening Ceremony is something that athletes dream about from the time they are very little. I never even had that dream – because I couldn't run, I couldn't jump. So to have it happen was just amazing. I don't think I'll ever have another experience like it."


Even beyond the competition, Rosenbaum is inspired by the Games' ability to unite people from across the globe.


"We suspend politics, or at least we hope to, for three weeks when the world gets together at the Olympic Games," Rosenbaum said. "When you sit in the Olympic Village dining hall, Kazhakstan is here and Jordan is here, and Israel is here – or you see a Serbian and Croatian coach walking together. You realize that everybody's engaged in the same endeavor."


Keeping that spirit alive outside of the Games, Rosenbaum said, is the Olympic Movement's real challenge.


"If we could only take that spirit and multiply it across the globe, things would be a lot better in the world," Rosenbaum said. "It's not quite as powerful as John F. Kennedy's 1963 speech – 'we all breathe the same air, we all cherish our children's future' – but it shows that you can live and work together."


As a USOPF Director, Rosenbaum is charged with shaping and growing the important work of the foundation and the U.S. Olympic Committee throughout the year. He and more than 50 other foundation directors work to grow philanthropic support for U.S. athletes so that they can achieve sustained competitive excellence, both at the Games and beyond.


Rosenbaum is particularly interested in technology that helps improve the performance of top-tier athletes. On a recent visit to the U.S. Olympic Training Center in Colorado Springs, he was pleased to see some of the advances that donor support have helped make possible – but he knows there is much more to be done.


"Some of the things that I've been exposed to through the USOPF, such as our training facilities that allow us to simulate various altitudes and climates – I look at that and go, 'Why didn't we have this before?'" Rosenbaum said. "If the technology is here, you've got to use it. And who is in a better position to use it than the United States?"


With the Rio 2016 Games concluded, Team USA's athletes are celebrating a job well done – but the USOPF is focused on the future.


The PyeongChang 2018 Winter Games are less than 500 days away, and America's skiers, skaters and sliders need philanthropic support now more than ever. As they enter their last full competition season before the Winter Games, Team USA hopefuls are seeing their travel and training costs increase.


But as Rosenbaum looks eagerly toward the world's greatest sporting event in 2018, he firmly believes that Team USA is in good hands.


"I think the USOPF has done a great job of providing these kinds of resources, and I think the future is bright – not just from an organizational perspective, but with the athletes coming through the pipeline. That's why I'm involved."