U.S. Olympic & Paralympic Foundation News
For dessert studio owner Sherry Blockinger, the best way to celebrate Team USA is by sharing something sweet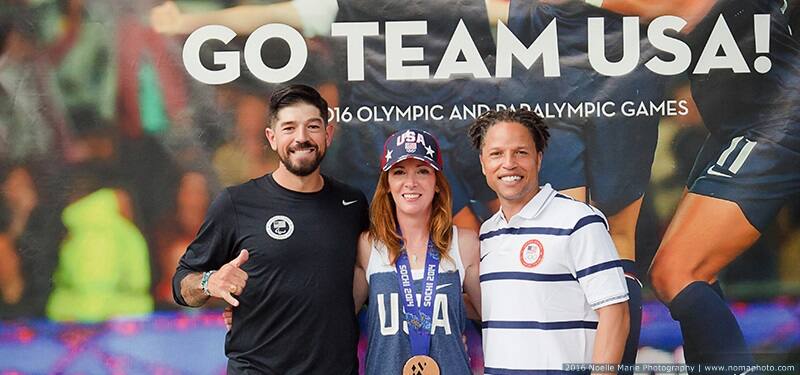 From left: Paralympic snowboarder Keith Gabel, dessert studio owner Sherry Blockinger and former U.S. Men's National Soccer Team player Cobi Jones.
Sherry Blockinger believes that dessert can be a part of any well-rounded diet – even that of an Olympic athlete.
So when it came time to choose a location for her Olympic soccer watch party, Blockinger naturally chose to host guests at her own gourmet dessert studio.
On Aug. 6, Sherry and Jeff Blockinger held a gathering of Team USA fans and supporters at sherry b dessert studio in Chappaqua, New York, where Sherry is the executive pastry chef. The event, held the day after the Rio 2016 Olympic Opening Ceremony, was all about celebrating and supporting America's finest athletes.
"When we were asked to host a U.S. Olympic Committee event, it took us about 12 seconds to say yes," Blockinger said. "We've both always been huge fans of the Olympics and Team USA."
The mission was two-fold: to cheer on the U.S. Olympic Women's Soccer Team in an early match against France, and to spread the word about Team USA's need for philanthropic support through the U.S. Olympic and Paralympic Foundation.
Blockinger was moved to host the gathering after she learned that Team USA is one of the only National Olympic Committees in the world that does not receive government funding for its athletes.
"One of the things that surprised us was learning that U.S. Olympians and Paralympians receive no funding from the U.S. government," Blockinger said. "We assumed that Team USA was supported by the USA. We felt it was important to get this message out and help people understand that these athletes – who represent and inspire us – need financial support to work towards and achieve their Olympic dreams."
Indeed, most U.S. Olympic and Paralympic hopefuls make an income of less than $20,000 per year – far less than what it takes to train, travel and compete at the highest level. Many hold part-time jobs in addition to their full training schedules, sacrificing sleep, recovery and time with loved ones in the process.
Back at sherry b dessert studio, two Team USA athletes joined the group to share firsthand perspectives on that lifestyle – the physical, mental and financial struggles that go into an Olympic or Paralympic journey.
Former U.S. Men's National Soccer Team player Cobi Jones, now a commentator for Fox Sports and the Pac-12 Network, provided expert commentary on the soccer game in addition to sharing stories from his 12-year career with Team USA.
Paralympic snowboarding bronze medalist Keith Gabel was also in attendance. He discussed the journey from losing his leg in an industrial accident in 2005 to being part of a historic U.S. podium sweep in the 2014 debut of snowboard cross at the Paralympic Winter Games. Gabel is now training for the 2018 Winter Games in PyeongChang, South Korea.
A former snowboarder herself, Blockinger was in awe of Gabel's determination and resilience. She was happy to learn they shared a mutual love for desserts, too.
"It was a snowboarding accident that led me to change direction in my career as a pastry chef," Blockinger said. "Sometimes in life you are fortunate enough to meet someone and just 'click.' You understand what their mission is, and they understand yours. I experience this with Keith each time we talk. We are two people who seemingly have little in common, but found instant common ground in my love for his sport and his love for my ice cream."
While guests cheered on Team USA and learned about the work of the U.S. Olympic and Paralympic Foundation, they also had the opportunity to taste some famously delicious sherry b desserts.
"Hosting this event also presented an opportunity to tie a fitness message to sherry b dessert studio, which is something I am passionate about," Blockinger said. "I am a pastry chef, which is a physical job and requires me to eat a lot of dessert – so I train like an athlete to maintain the physical strength and stamina I need to perform at work and to make room for the extra calories."
Her lifestyle does differ from Olympic and Paralympic athletes in one key way, though. Instead of pursuing medals, she is pursuing the perfect recipe.
"Let's face it," Blockinger said. "I taste all day long and still eat dessert after dinner almost every night!"
To make a gift to the Team USA Fund in support U.S. Olympians, Paralympians and hopefuls, visit TeamUSA.org/donate.