U.S. Olympic & Paralympic Foundation News
In U.S. Olympic and Paralympic Movements, diversity is key to success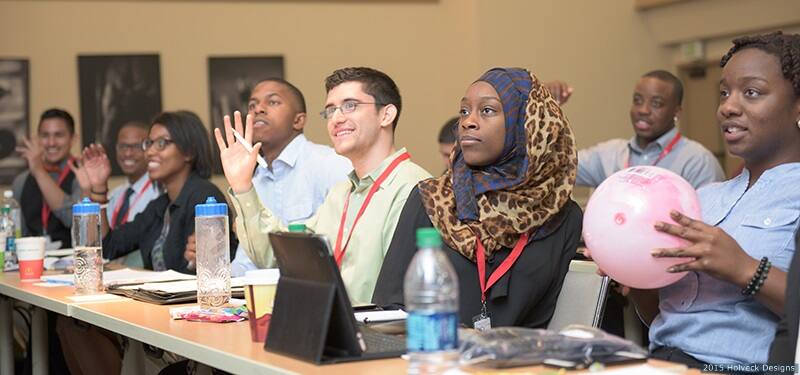 Students participate in a workshop at the USOC's FLAME (Finding Leaders Among Minorities Everywhere) Program (2015).
At the U.S. Olympic Committee and its sport governing bodies, promoting diversity is about more than doing the right thing.
It's about achieving organizational success.
The USOC's Diversity and Inclusion department operates with the vision that by harnessing the synergy of many diverse talents – at the athlete, staff and leadership levels – Team USA's performance can only benefit.
Paralympic champion Andre Shelby, the first African American to represent Team USA in archery at the Paralympic Games, understands this concept on a personal level. A Navy veteran who was wounded in service, Shelby discovered the sport of archery during rehabilitation – and went on to win a gold medal in Rio.
"This was not the first time I was the only African American on a team, but to be the only African American on the Paralympic Archery Team was phenomenal," Shelby said. "I just wish the awareness of archery was available to more minorities. I think different sport organizations should extend themselves to diverse backgrounds – it can and will benefit the sport and the athlete."
For USOC Chief Executive Officer Scott Blackmun, valuing diversity among staff and leadership is a priority for many reasons – but importantly, such a culture allows the USOC to better cultivate its pipeline of high performance athletes.
"Diversity and inclusion are core values at the USOC because they make us better as an organization, ensuring that we're capable of solving our complex business needs and equipped to provide the kind of support America's athletes need," Blackmun said.
"The more we include diverse perspectives and experiences in our work and thinking, the more likely we'll be able to thrive in an incredibly competitive world."
In fact, in a recent study, the USOC found that teams that won medals were more diverse throughout all levels of the organization than teams that did not medal. That held true for both the Summer and Winter Olympic Games.
"The USOC embraces transparency in our D&I commitment," said Jason Thompson, the USOC's Directory of Diversity and Inclusion. "We know there are opportunities for improvement, and we have fully accepted the challenge. We appreciate the support we receive from Scott Blackmun and the USOC Board of Directors, and our department has continued to be empowered by their leadership and commitment."
The USOC was honored with the No. 1 ranking for innovations in diversity by Diversity Journal in 2016, while Thompson was named individually as a 2017 Diversity Leader Award recipient.
In an effort to be proactive about diversity in the business of sport, the USOC runs an annual program called FLAME – Finding Leaders Among Minorities Everywhere. This program provides diverse college and graduate-level students with a unique look into the world of elite sport. Over eight days, students participate in personal and professional development workshops in preparation for a career in sports.
The program is based out of the U.S. Olympic Training Center in Colorado Springs, a setting that offers the opportunity to meet Team USA athletes from diverse backgrounds and try a variety of Olympic and Paralympic sports.
Bobsledder Elana Meyers Taylor, a two-time world champion and two-time Olympic medalist, participated in a Q&A panel and networking session with students during the 2015 FLAME Program.
"As a minority myself, it's important that as young children we see people who look like us on prospective fields, so we know that we can achieve anything we want regardless of our race and/or gender," Meyers Taylor said. "FLAME gives professionals in sport an opportunity to interact and share their experiences being a minority, but also brainstorm how to move forward and push through any glass ceilings that exist.
"It's important to have leaders in sports that represent the same races and genders as the athletes who participate in them, and FLAME helps build leaders from a variety of diverse backgrounds."
Past FLAME participants, like Keck Graduate Institute student Alec Contag, have found value in learning about career opportunities, discussing diversity issues and connecting with like-minded individuals around the USOC's mission.
"My favorite part about the FLAME Program was being in a place where high caliber athletics and really mission-based values come together," Contag said, "and seeing how the Team Behind the Team can really help us reach our goals."
FLAME, which has a 23-year history, is currently accepting applications for the 2017 program set for July 25 – Aug. 1 in Colorado Springs. Click here to learn more about participation guidelines and how to apply. The deadline to apply is Sunday, March 19, at 5 p.m. MDT.
Behind each of these initiatives is a common goal: to cultivate diverse talents, and in turn build a stronger Team USA. That's a mission that anyone, regardless of background, can get behind.
Like the USOC itself, the Diversity and Inclusion programs are funded largely by private philanthropic support.
Drs. Tej and Simran Singh, who also serve as Trustees of the U.S. Olympic and Paralympic Foundation, made a generous gift in 2016 that will help support initiatives like FLAME in the coming years.
"Diversity is important for any organization's success, and we are so excited to see the USOC make this a priority at all levels from the introductory FLAME program all the way to our leadership," the Singhs said. "Bringing diverse perspectives and people together always leads to a winning team."
If you are interested in getting involved or making a gift to support the USOC's Diversity & Inclusion programs, email foundation@usoc.org — or click here to make a one-time donation to Team USA.