U.S. Olympic & Paralympic Foundation News
OTC VIP Weekend brings donors, athletes together in celebration of Team USA
by U.S. Olympic and Paralympic Foundation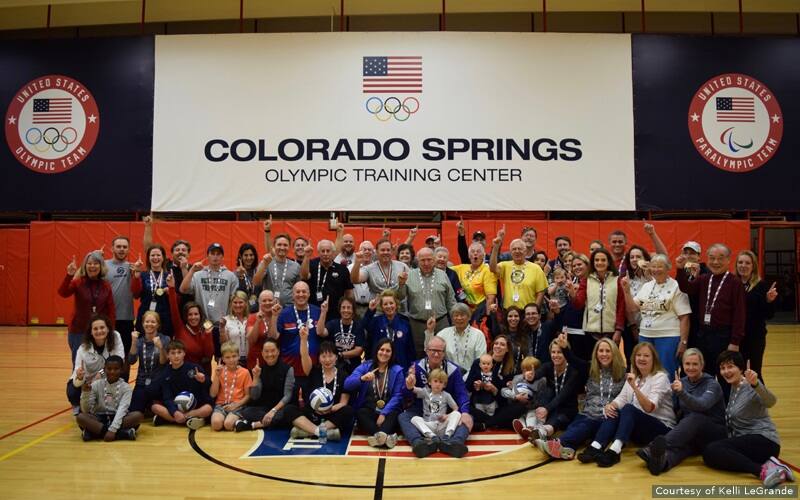 Guests pose at an Olympic Training Center gym after a sitting volleyball session.
The U.S. Olympic and Paralympic Foundation hosted its inaugural VIP Weekend at the Olympic Training Center in Colorado Springs, colloquially known as "Olympic City USA," from Friday, Oct. 20 to Sunday, Oct. 22.

The event brought together 58 corporate and philanthropic leaders and their families from 15 states for interactive sporting experiences at the OTC, including opportunities to participate in sitting volleyball, judo and shooting.

"We were thrilled to provide our generous donors from across the U.S. exclusive access to our programs and athletes," said Jon Denney, president of the USOPF. "This was an exceptional opportunity to bring national leaders to the OTC and Olympic City USA to learn more about the United States Olympic Committee and the importance of the Colorado Springs community in the Olympic and Paralympic Movement."

On Saturday, Oct. 21, guests dined over the lunch hour with OTC resident athletes. That night, four-time Olympic track cycling silver medalist Sarah Hammer, Paralympian Chris Murphy and new OTC resident athlete and para-cyclist Nick Gibb performed a cycling demonstration before dinner at the Colorado Springs Olympic Training Center Velodrome.

To close out the weekend, guests were treated to sweeping views of Garden of the Gods during a hike led by triathlete Erin Storie and her husband, pentathlete Logan Storie.

"I came to the [Olympic Training] Center for the first time in 2001, and it's like home to me," said Sharon Evers, a donor in attendance. "I just feel like this is where I belong."

The USOPF's VIP Weekend precedes its Games Hospitality Program, which will bring donors and their families to PyeongChang, South Korea, in February for the 2018 Olympic Winter Games. The program is nearly sold out, and its attendees have collectively given more than $34 million to the USOPF in support of U.S. Olympians, Paralympians and hopefuls.

"Donors allow us to focus on our pursuit of excellence at the Games by providing financial support for things like training, competition and living expenses," said Hammer, who recently retired from her sport and is now coaching. "I appreciate everything they did during my career to put me in the best possible position to win medals and inspire Americans, and I'm grateful that we have so many committed supporters of Team USA."

To learn more about USOPF giving opportunities, please click here.