U.S. Olympic & Paralympic Foundation News
Celebration abundant at 23rd annual Adaptive Spirit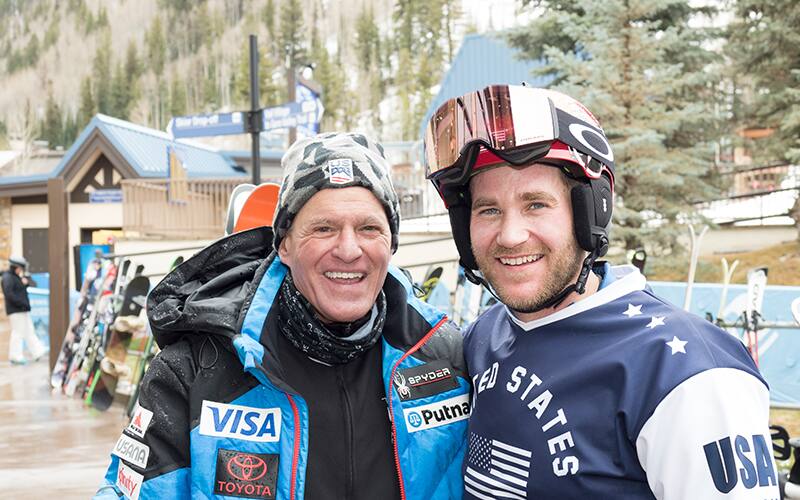 Mike Schultz poses with Dr. Thomas Clanton of the Steadman Clinic at the base of Vail Mountain after participating in the Adaptive Spirit races on Saturday, April 7, 2018. Photo by Eric Pond.
The Star-Spangled Banner played for American skiers and snowboarders 12 times in PyeongChang during the 2018 Paralympic Winter Games.

At Adaptive Spirit, an annual gathering of cable and telecommunications professionals in Vail, Colorado, it played one more time at the event's banquet in honor of the 35 medals the U.S. Paralympic Ski and Snowboard Teams brought home from South Korea.

For the first time since Albertville 1992, Team USA topped the medal table in both gold and overall medals won at the Paralympic Winter Games PyeongChang 2018. And, as any member of the team would tell you, Adaptive Spirit played a major role in the Americans' victories.

"Paralympic years are so fun to celebrate that success. My favorite time to do Adaptive Spirit is after the Paralympic Games, because we have all these stories," said Steve Raymond, founder and chairman of the four-day fundraising event. "The athletes bring their medals, they bring their families and we celebrate.

"We want this to be a moment where they can shine, relax and have fun – and celebrate all that hard work."

Much has changed since Raymond held the first iteration of Adaptive Spirit 23 years ago, but the inspiration remains the same. Back in 1984, Raymond was living in Vail and skiing every weekend with his friends. One dangerous day on the slopes, Raymond's friend Bob Meserve was paralyzed in a ski accident.

Drawn back to the snow, Meserve picked up monoskiing and soon made what was then called the U.S. Disabled Ski Team.

In 1994, Meserve came to Raymond with a dilemma: One of the team's biggest sponsors was pulling their funding. Raymond, who was working for ESPN at the time and serving as president of the Rocky Mountain chapter of the Cable & Telecommunications Association for Marketing (CTAM), worked with other CTAM members to devise a plan to save the team – and the careers of athletes like Meserve.

They decided to hold a networking event for industry professionals from across the nation that doubled as a fundraiser for the U.S. Disabled Ski Team, now the U.S. Paralympic Ski Team. Raymond called the late Warren Miller, a prolific ski and snowboarding filmmaker, to see if he'd give the keynote speech.

And just like that, "SkiTAM," later Adaptive Spirit, was born.

"[Miller] really was powerful as for the inclusiveness of skiing and how important it is to have people back in this arena, and we were onto something," Raymond said. "We raised enough money to save the team that year. We had 20 sponsors and about 200 people show up; we paired them with athletes and they got to know them over three days. And people got hooked."

Fast forward 23 years, and interest in Adaptive Spirit – and the Paralympic Movement in the United States – is soaring after one of the most successful Winter Games performances by the Americans in history.

At this year's event, more than 1,200 attendees and 65 sponsors helped raise $1.34 million for the U.S. Paralympic Ski and Snowboard Teams, and NBCUniversal, one of Adaptive Spirit's major sponsors, broadcasted more than 250 hours of Paralympic coverage across television and streaming platforms in 2018, up from 50 hours during the Sochi Games.

Nomi Bergman, senior executive officer at Advance/Newhouse Partnership and a director on Adaptive Spirit's all-volunteer board, watched her favorite athletes race before getting to congratulate them in person.

Bergman has been attending the event with her daughters for upwards of 15 years and says that her family looks forward to Adaptive Spirit all year.

"Why do I support this event? Because it's an honor to support it," Bergman said. "It's an honor to be part of helping the U.S. Paralympic Ski and Snowboard Team become stronger. It's an honor to have the opportunity to get to know these athletes, to hear about what they're wrestling with and to think about how we can be even more helpful."

Another board member, Tim Gropp, a senior vice president of sales at Arris, says the event is the perfect opportunity to network with other industry professionals for a good cause. What keeps him coming back, though, are the athletes.

"Getting to know the athletes and being around them for the weekend, it's very inspirational," Gropp said. "In terms of meeting challenges and setting goals and meeting those goals, I've never seen a more driven group of people."

With team performance the best it's been in nearly 25 years and sponsors more engaged than ever, Raymond hopes that he can sustain the growth that has made the U.S. Paralympic Ski and Snowboard Teams so successful.

But first, Raymond and his volunteer team made sure the athletes were recognized for their achievements in PyeongChang in the most patriotic way possible: by playing the Star-Spangled Banner over a montage of medal moment after medal moment.

"Everybody has one thing in common: We all love the athletes and we give our time for them, and everybody rallies around that message," Raymond said. "People always want to volunteer and it's easy to get people to help us, because they meet the athletes and they get it.

"[The athletes] understand that they have a big platform, and if they can motivate some young man or woman who may be going through a tough time or a physical challenge, and they see them and what they can do with their life, that's super powerful."
Adaptive Spirit is a four-day event in Vail that gathers telecommunications professionals in support of the U.S. Paralympic Ski and Snowboard Teams. To make a gift to Adaptive Spirit that benefits Paralympic ski and snowboard athletes, please click here. To make an unrestricted gift to the Team USA Fund in support of all U.S. Olympians, Paralympians and hopefuls, click here.