U.S. Olympic & Paralympic Foundation News
Q&A: Herschel Walker, NFL legend and Warrior Games donor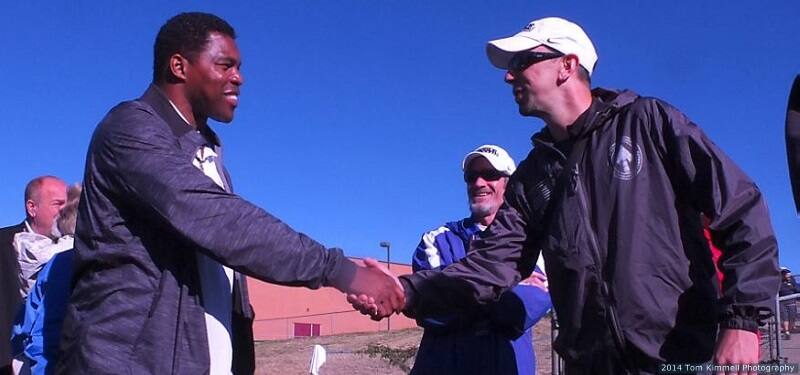 NFL legend and Heisman Trophy winner Herschel Walker donated $55,000 in winnings from the Rachael vs. Guy: Celebrity Cook-Off to the 2014 Warrior Games presented by Deloitte.
As a Heisman Trophy winner, College Football Hall of Fame inductee and two-time NFL Pro Bowl running back, Herschel Walker has had one of the most successful football careers of all time. If his life had turned out differently, though, Walker thinks he would have made a good Marine.
It turns out the football star is a decent cook, too. Having recently competed in and won the TV contest Rachael vs. Guy: Celebrity Cook-Off, Walker chose to donate his $55,000 in winnings to U.S. Paralympics, a division of the USOC. Walker directed his gift to support the 2014 Warrior Games presented by Deloitte, which were held Sept. 28-Oct. 4 in Colorado Springs and featured competition between 200 wounded, ill and injured military service members and veterans from all five branches of the United States Armed Forces.
Walker is particularly driven to support veterans who suffer from traumatic brain injury (TBI) and post-traumatic stress disorder (PTSD). Outspoken about his own struggle with dissociative identity disorder (DID) and depression, Walker's mission includes reducing the stigma associated with mental illness and encouraging those who are suffering to seek help.
The U.S. Olympic and Paralympic Foundation sat down with Walker at the Warrior Games to discuss his support of America's military service members and the impact of his gift to U.S. Paralympics.
USOPF: What did you take away from your experience attending the 2013 Warrior Games that made you want to support the event in 2014?
HW: I thought I was cut out to be a Marine. I think God had another plan laid out for me, but the military has always been very special to me. To see the resiliency of the athletes out here and what they're going through, and to see them out here competing the way they do is amazing. I was out here last year watching a young man swim. He lost both legs and was missing part of one arm, and he swam, I thought that was absolutely amazing. I think about how I've been able to do some of the things that I've done, and yet I still complain sometimes. You see people that saved this country, that give us the freedom that we have, that have lost so much, but yet almost everybody that I see here is smiling. I can always get tired and take my ball and go home, but that's not the way life is for these individuals. It's a little bit different for them.


USOPF: What do you find most compelling about the Warrior Games and the efforts of the athletes out here today?
HW: What I find compelling is the camaraderie among all of the athletes – and not just the athletes, but the families – and how giving everyone is here. How they're cheering for everyone, and even though it's a competition, they want to see everyone do well. I think that's special. We call it the Warrior Games, and then you realize that it is warriors. These are your true warriors, and these guys are out here giving so much.


USOPF: You've been pretty vocal in telling the story of your struggle with dissociative identity disorder. How have you used your experiences to encourage military veterans and others to seek help for mental illness?
HW: What I want to be able to give back to these warriors is the message that, you know guys, there's nothing wrong with you. I think people can feel that whenever you have a problem, there's something wrong with you – you're probably crazy, you can't do it anymore. But I'm trying to say no, you're living proof that we all face these challenges. How you take on these challenges is the type of person that you are.
You see these warriors out here competing, so you know they can do it. They went off to some foreign land and gave us the freedom we have right here, so are you going to tell me that just because they're back here and there was something that may have happened or that they may have seen, or something that is going on in their lives, that now they're no good? That's not true. And I know that's not true, and I want all of America and all of the members of Congress to know that's not true so that they get involved. I want them to realize that the reason this country is what it is today has nothing to do with Starbucks or Walmart. What it has to do with is our military, our servicemen and women that are here at these Warrior Games that have sacrificed what they have to be here.
USOPF: Why is it important to you to spread the message of mental health to your community?
HW: It is important to me to try to get rid of that stigma. You know, I never drank; I've never taken a drug. I've won everything you can win as an athlete, I've had such great times, but what was strange is that I went through a time in my life that was terrible – a time in my life that was scary, a time in my life that I could've killed someone, I could've killed myself. And it was a scary, dark place. And that was a time where people like my friends and teammates that I've had for my whole life, turned their backs on me because they thought I was crazy too. But I was fortunate enough to have a wife and a pastor and a doctor who didn't turn their backs on me. They knew that I was not crazy, and they helped me through it. And that's what I want to do here – tell all the people that may have a loved one or a friend or they themselves might be going through it – that guys, there's nothing wrong with you.
But I also tell them it's not going to be easy. I'm trying to say that whatever someone else is thinking about you – don't worry about that. It doesn't matter, because those people are not with you at 1 or 2 in the morning when you're pacing the floor. Those people are not with you when you may have a gun to your head or you may be getting ready to take a drug or getting ready to drink – they're not with you then. You've got to worry about how you feel. There have been some things you've seen over in these other countries that we're not used to seeing, that you're not able to deal with, so you want to take that drink or that alcohol or that drug, and I'm saying you don't have to do that – that you can overcome it, but it's not going to be easy. And that's what I want them to understand. It's just like what you did when you went to save this country – it's tough, but you can do it. I know you can do it.
USOPF: Have you tried any of these adaptive sports – sitting volleyball, wheelchair basketball or handcycling? Which ones have you found to be the most challenging?
HW: You know, I tried wheelchair basketball last year, and I've done the wheelchair sprints and everything. It's hard – it's not easy! That's what people don't realize. I tell people to just try the seated volleyball. When you can't move like that with your legs, it is very, very difficult to do. And what's wild about it is when you're only using your upper body – I was watching some of these guys throw the discus in the chair – that's a lot of strength. You don't realize how much stress that is on your shoulders and your arms. When you're an athlete everything is a tool, like your legs giving you strength. And you watch these athletes do it, and people don't understand how hard that is.
Wheelchair basketball really gave me a new appreciation for these guys, because I'm a decent basketball player. And I had to learn how to handle the chair, I couldn't handle the chair. Then how to move the ball, and I tell you what – it's tough, it's very, very tough. I just need time. I just need to practice so I can get it down.
For information on how to support U.S. Paralympics with a gift to the Paralympic Champions Fund, visit Teamusa.org/US-Olympic-and-Paralympic-Foundation/Current-Use-Gifts.