U.S. Olympic & Paralympic Foundation News
For U.S. athletes, Simon Endowment is a game-changer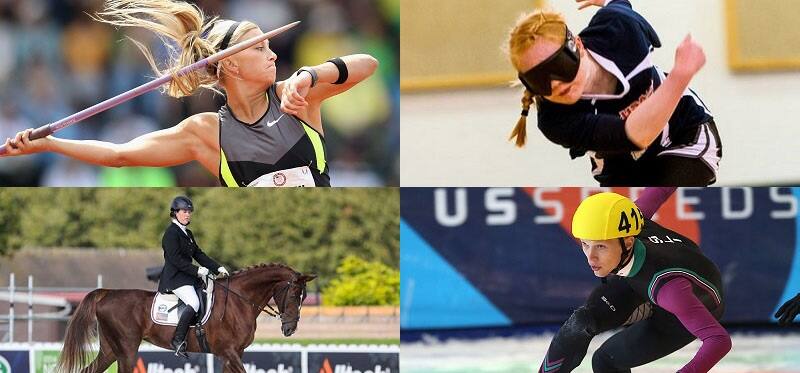 Clockwise from top left: Kimberley Hamilton, Marybai Huking, Keith Carroll and Roxanne Trunnell are four of the 14 recipients of the 2015 William E. Simon Olympic Endowment for the Support of Athletes.
U.S. speedskater Keith Carroll's Olympic dream involves more than hours on the ice.
It also involves 40 hours per week at Target Stores, where Carroll works as a senior team leader in West Valley, Utah. He is the only U.S. National Speedskating Team member to work full-time in addition to his rigorous training.
"I get asked how I manage work and skating all the time, and my answer is usually pretty easy – when you have no other options, you find a way to make it work," Carroll said. "I train all morning long, then I shower at the oval, and then I head to my store to work the closing shift."
Unfortunately, Carroll's routine is not unusual for a U.S. Olympic hopeful. The median income for most U.S. national-team athletes is less than $20,000 annually, while a season's worth of training and competition costs can range from $25,000-$40,000.
To cover those costs, Carroll takes on extra closing shifts at Target, sacrificing critical sleep and recovery time – not to mention time with family and friends – in the process.
This year, however, Carroll and 13 other U.S. Olympic and Paralympic hopefuls will have a little help from the William E. Simon Olympic Endowment for the Support of Athletes. This grant, established in 1998 by former USOC president William E. Simon, provides financial aid to underwrite living and training expenses for a select group of promising athletes each year. For 2015, the trustees for the endowment approved a total of $70,000 in funding.
Marybai Huking, a Paralympic goalball player from Plain City, Utah, is one recipient of this year's grant.
For Huking, the grant will ease some of the financial stress her family faces each competition season. As the youngest member of the gold-medal-winning U.S. Women's Goalball Team at the 2014 World Championships, Huking is a likely candidate to compete for Team USA at the Rio 2016 Paralympic Games. At this level, though, she must travel nearly every weekend to competitions out-of-state.
An 18-year-old high school senior, Huking is raised by a single mother who is retired. She has four brothers, two of whom are also visually impaired.
"It's great that the Simon Endowment is able to support me, and it takes a huge burden off of my family," Huking said. "My mom will be able to put more into my brothers, who have probably haven't seen quite as much support as I have just with how much I need to travel for this sport."
Paralympic equestrian athlete Roxanne Trunnell (Rowlett, Texas) hopes to put her Simon Endowment funding towards airfare to important pre-Games qualifying competitions this season. Trunnell, who was an Olympic hopeful in the discipline of dressage before suffering a 2009 stroke, is one of the U.S. Para-Equestrian Team's top medal hopefuls for 2016. In fact, the effects of Trunnell's disability seem almost to disappear when she sits on her horse.
"It's quite different how I can go from struggling to balance on my own two legs to being able to sit on a saddle on a horse and perform a para dressage test," Trunnell said. "It's a dramatic difference between the two."
When Trunnell first discovered para-equestrian sports following her stroke, she lived in a town in Washington where there were no para trainers close by. To continue pursuing her athletic goals, she moved to Texas with her family and began working with experienced para trainer Kai Handt. The move left little money to spare for the extensive competition travel Trunnell anticipates this season.
"Picking up and moving to Texas was an amazing show of support from my parents, but as one can expect, a move like that was financially draining," Trunnell said. "The funds from the William E. Simon Olympic Endowment will allow my parents and me to fly to (a pre-Games qualifier in California this season) instead of having to drive there."
Kimberley Hamilton, an aspiring javelin thrower living in Knoxville, Tennessee, currently balances three part-time jobs and a full-time training schedule. Even with limited time to train, Hamilton managed a third-place finish at the 2012 Olympic Trials – proving she is a top contender for the 2016 U.S. Olympic Team.
Her hectic schedule leaves little time for sleep and recovery, leaving her to train fatigued almost every day. It also hinders her ability to travel to marquee competitions, which will be necessary in order to gain a spot on Team USA for the 2016 Games.
"Over the last few years, I've been competing in the same meets, and I want to venture out to more competitive competitions," Hamilton said. "This financial backing will allow me to do that. Additionally, the funds will allow me to get the necessary injury prevention and rehab for my body. Help with the costs of physical therapy and massage will be an asset to my overall performance this year and beyond."
For these athletes and thousands more across the country, it's not a lack of talent or drive that stands in the way of an Olympic dream – it's a lack of funding. Because the U.S. Olympic Committee receives no government funding, athletes often rely on private grants and donors to support their limited income.
Click here to donate today in support of an athlete's dream. To learn about additional giving opportunities through the U.S. Olympic and Paralympic Foundation, visit Give.TeamUSA.org.