U.S. Olympic & Paralympic Foundation News
Remembering a legend: Canoe slalom bronze medalist Jamie McEwan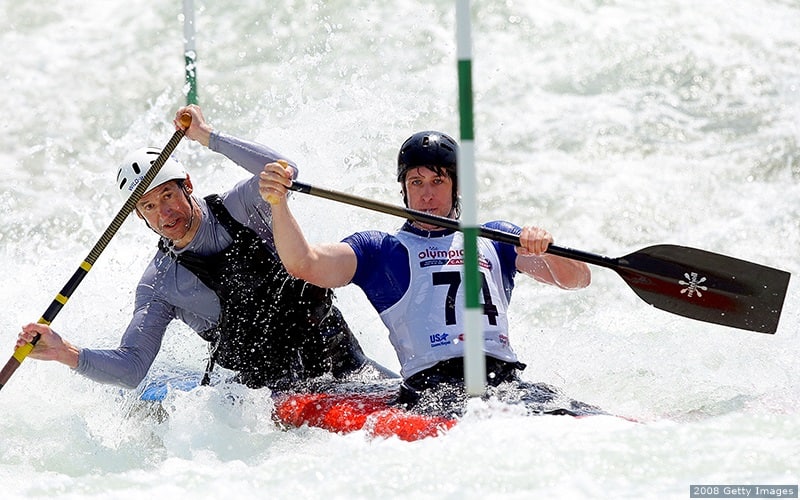 Jamie McEwan (left) competes in the C-2 canoe slalom event with his son Devin at the 2008 U.S. Olympic Trials.
Jamie McEwan was often late for dinner.
The avid whitewater canoeist and his wife, Sandy Boynton, regularly hosted their friends Mike and Lindy Keiser at their home in Connecticut.
"We'd pull into the driveway at their beautiful farm, just as Jamie was returning home from three hours in the Housatonic River, where he trained by paddling uphill," Keiser recalled. "This was virtually whenever we visited, because he trained almost every day. He was drenched and happy, and he'd say with a big crooked smile, 'Oh, sorry, I stayed in the river a little too long. I'll be right back.' He'd go shower and then join us."
It's Keiser's fondest memory of his dear friend.
Keiser first met McEwan's wife, a celebrated children's book author, when the two partnered to market her now-famous whimsical greeting cards. As Boynton's husband and business partner, McEwan was closely involved, even authoring several children's books himself.
"Whenever we met with Sandy, we met with Jamie, for what must have been 25 years," Keiser said. "We worked closely together and we became very good friends. We made trips together – my wife and I, and Sandy and Jamie."
By this time, McEwan was known as the first Olympic medalist for the United States in whitewater canoe slalom singles, a feat he accomplished at the 1972 Games in Munich. McEwan's bronze medal helped launch the popularity of whitewater sports in the United States.
Canoe slalom was dropped from the Olympic program after 1972, and wasn't reinstated until 1992. That didn't diminish McEwan's love for the whitewater, though. In fact, he took part in many expeditions down some of the world's most treacherous rivers.
In 1998, he and his brother Tom were members of an expedition to run the Tsangpo Gorge in Tibet, considered the "Mount Everest" of rivers. The expedition encountered unanticipated high water, and a member of their team, Doug Gordon, was lost. Two books were written about the expedition: The Last River by Todd Balf and Counting the Diamond Sow by expedition leader Wickliffe W. Walker.
In 1991, with a second Olympic Games now possible, McEwan and his family moved to the French Pyrenees so he could train in doubles with then-partner Lecky Haller alongside the talented French national team. The two placed fourth at the Barcelona 1992 Games.
"I am awed that Jamie was able to train at that level while remaining deeply engaged with us as a family," Boynton said. "Our children (Caitlin, Keith, Devin and Darcy) were 1, 6, 9 and 12. The older three went directly into the rigid and demanding French school system, having absolutely no background in French. It's a lucky thing that they all have Jamie's ever-cheerful 'what-the-heck-ness'."
McEwan continued to compete throughout the 1990s and even partnered with his son Devin, a current elite-level canoeist, for several competitions in the 2000s.
"It would be hard to articulate how cool that was," Devin McEwan said. "My dad was – and is – my hero both on and off the river, but he was also an amazing C-2 partner, traveling companion and friend."
The two were named to the 2001 U.S. National Team together, which Devin remembers as one of the best experiences of his life.
"Perhaps more than any other paddler I've ever met, my dad exuded competence on whitewater – he just seemed totally at home in a boat," Devin said. "It's crucial in C-2 to have faith in your teammate, and he inspired my absolute faith."
On June 14, 2014, Jamie McEwan passed away at the age of 61 due to multiple myeloma, a form of cancer that he had battled since 2009.
Boynton remembers watching her future husband on TV during the 1972 Olympics, and later meeting him in a drama class at Yale University.
"My mother asked me, 'Do you know that Jamie McEwan whitewater guy they keep showing (on TV)?'" Boynton recalled. "I hadn't been watching, and I said no. She said, incredulously, 'But he's in your class!' I pointed out that there were 1200 people in my class. And my mom replied, 'you should get to know him. I'm sure he's more interesting than all of them.'
'So I watched. I got to see Jamie race – from that day on, I have loved this sport – and I saw him win his medal. A full year later, he and I were part of a very small acting class. A few weeks in, I suddenly realized: Wait. He's that Olympics guy my mom told me about!
And she was, of course, absolutely right – Jamie was always more interesting than anyone else."
After McEwan's passing, Keiser met with a fundraiser from the U.S. Olympic and Paralympic Foundation. He was considering making a mid-level gift to Team USA, but after reminiscing about Jamie, he wanted to make more of an impact on the sport that had meant so much to his friend.
Kesier ultimately decided to make an endowment gift to sustain the sport of canoe and kayak. The funding, invested annually, provides perpetual support for American athletes – including Devin, who recently won the 2015 C-2 national title with partner Casey Eichfeld.
"I know he would've been modest and said, 'Well, you don't really have to name it after me,'" Keiser said. "But if we insisted, he would've given us that crooked smile and said, 'Well, it's for the good of canoeing.' He was an avid and enthusiastic supporter of the sport."
Keiser's gift has the potential to transform the sport of canoe and kayak in the United States, just as McEwan's 1972 Olympic bronze medal did.
"Mike told me about the gift a year ago, around the time of Jamie's memorial service," Boynton said. "My kids and I were – and still are – stunned by this remarkable tribute. We're awed and grateful. Mike and Lindy's gift fits Jamie and his unique character and legacy absolutely perfectly."
With additional resources comes increased access to the sport at all levels. Meanwhile, more paddlers at the elite level – like Devin – will have the support they need to become professionals.
"(Whitewater canoe) is a sport unlike any other – physical and intellectual in equal measure, chaotic, balletic, hair-raising and meditative," Devin said. "And these days, it's when I'm on the river that I feel closest to my dad."
It's hard to sum up everything that Jamie McEwan was – paddler, writer, husband, father, son and loyal friend – in one narrative.
But for all of those reasons, he will never be forgotten.
...
...