U.S. Olympic & Paralympic Foundation News
For Team USA's military athletes, representing country means something more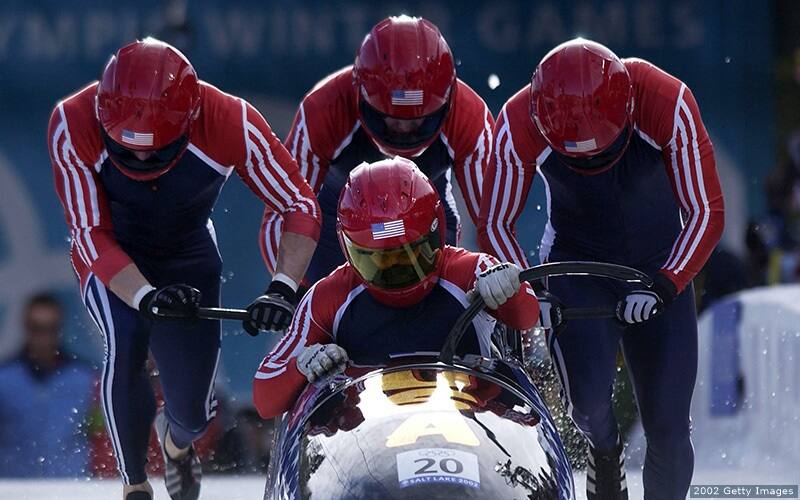 The USA-2 bobsled team of Brian Shimer, Mike Kohn, Doug Sharp and Darrin Steele compete at the 2002 Olympic Winter Games in Salt Lake City. The four-man squad made up entirely of military servicemen won bronze five months after the terrorist attacks of September 11, 2001.
Five months after the terrorist attacks of Sept. 11, 2001, four U.S. military servicemen in a bobsled captured a bronze medal at the Salt Lake 2002 Olympic Winter Games.
The performance broke a 46-year medal drought for the U.S. in the four-man bobsled event. More importantly, it provided a moment of unity and patriotism for a nation still suffering.
"As a four-man team of all soldiers, we felt like we had made a small contribution – putting a smile on the faces of Americans – just for one night," said Mike Kohn, a member of that historic four-man team and currently a Captain in the Virginia National Guard. "I went to Afghanistan after the 2002 Games. It was awesome to wear the USA uniform in competition and then come back and put on the military uniform and serve my country in a different capacity."
Team USA's soldier-athletes are few – and understandably so, given the enormous commitment of both serving in the military and competing at the highest level. But they also tend to be some of the most successful members of Team USA.
"It's the teamwork, the danger, the exhilaration and the representation of country," said Kohn, who now coaches military athletes on the U.S. National Bobsled Team. "We all have this intrinsic motivation. We probably all are a little bit crazy."
At the 2014 Olympic and Paralympic Winter Games, 25 members of Team USA were either current or retired members of the U.S. military. Of those 25, seven brought home a medal from Sochi.
Four of those medalists were U.S. Paralympic Team members who sustained injuries in combat; two are current members of the U.S. Army World Class Athlete (WCAP) Program; and one formerly served in the Utah National Guard.
Kohn believes that, while it makes for a busy lifestyle, the combination of military service and Olympic-level training can have real benefits.
"During military training, you are pushed harder than you think you can carry yourself," Kohn said. "I have the pleasure of competing with and coaching athletes, both civilian and military, who have that mental toughness, and it's just phenomenal. I look at a lot of civilian athletes and think, 'Wow, they would make a great soldier.'"
Since 1948, more than 400 service members have represented their countries by competing in the Olympic Games.
Beyond individual athletes, some Olympic sports themselves have deep historical ties to the military.
The sport of modern pentathlon, which includes swimming, equestrian show jumping, fencing, pistol shooting and running, was developed in the early 1900s to reflect the skills required of a cavalry soldier behind enemy lines. The event was once restricted only to military personnel; in fact, the famed General George S. Patton competed for Team USA in the first-ever modern pentathlon event at the 1912 Olympic Games in Stockholm.
Today, three members of the U.S. National Modern Pentathlon Team are also soldiers in the U.S. Army WCAP Program.
"It is a big deal to the three of us to have such a strong presence on the national team because pentathlon was once only allowed for military officers," said Army Specialist Logan Storie. "It is an honor and a privilege to serve my country both as a soldier and as an athlete."
Storie, like many other military athletes, felt compelled to join the Army to serve his country off the field of play.
"I wanted to give back, to do something greater than myself," Storie said. "And to live life full of passion and adventure. The Army has given me so many great opportunities, and I have only skimmed the surface. I look forward to continuing to serve even after sports."
The Paralympic movement, meanwhile, began as a form of rehabilitation for wounded veterans following World War II. Today, the U.S. Paralympic Military Program continues to provide rehabilitative support, sport clinics and mentoring to wounded servicemen and women from the grassroots to the elite level.
Some of those service members, like U.S. Paralympian Bradley Snyder, go on to represent the U.S. in Paralympic competition at the highest level. Others simply make the discovery that they can be active and healthy after sustaining injury in combat.
"I used to wear the American flag on my right arm, now I wear it on my left," Snyder said, referencing his military uniform as a Lieutenant in the U.S. Navy as compared to his new uniform as a member of the U.S. Paralympic Swim Team. "I am so proud to represent this country."
After the Sochi Games, a group of Paralympic military athletes visited the Pentagon to meet with Secretary of Defense Ashton Carter and several members of the Joint Chiefs of Staff. There, they saw the impact their efforts had made even at the highest levels of U.S. government.
"We talk a lot about heroes in our business, but we want you to know you guys are heroes too," wrote Air Force Chief of Staff General Mark A. Welsh following the visit. "You inspire us all to be better at everything we do. Your stories of courage and commitment, despite challenges that are incomprehensible to most of us, are truly amazing. Thank you for inspiring us."