U.S. Olympic & Paralympic Foundation News
FLAME alumni serve as testament to program's longstanding success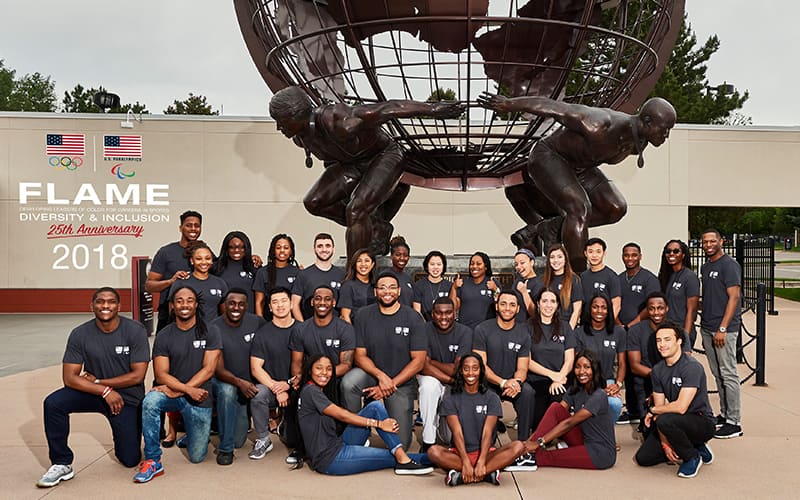 The FLAME class of 2018 poses in front of the Olympic Training Center in Colorado Springs, Colorado.
The idea for the name of the transformative program that would introduce minority scholars to the Olympic and Paralympic movements came to Sean Lyles where most great ideas originate: in the shower.

"It was a Saturday morning, I'm in the shower, I'm thinking," Lyles, who was working in marketing communications for the U.S. Olympic Committee at the time, said. "I wanted something that was gonna be a symbol of what the USOC stood for."

And then it hit him: Finding Leaders Among Minorities Everywhere. Playing off the symbolism of the Olympic torch, the program would be known as FLAME.

Since Lyles' lightbulb moment, nearly 750 students have benefitted from FLAME, which brings together around 30 underrepresented students per year to Colorado Springs for seven days of learning and networking with athletes, industry leaders and peers.

FLAME, which celebrated its 25th anniversary this year, is the USOC's longest-running program. As the FLAME network grows, its graduates fan off to become leaders in all areas of sport, including the professional ranks, sports science, the Olympic and Paralympic movements and more.

Ronnie Burton Jr., a 2005 graduate and the son of a former professional football player, came to FLAME when he was just 15, back when the program catered to high school students. Now, he's the assistant director of development at the University of Nevada, Reno. Without FLAME, he says he wouldn't have known the scope of his career options.

"I was always enamored, from a really young age, with the opportunity to work on the other side in the front office and to try to get a seat at the table," Burton said. "For me, when I came here and I saw the opportunities available, not just in the Olympic movement and the Paralympic movement, but throughout sports business, I was sold."

Beyond opening doors to different career paths, the FLAME experience shaped perceptions of what "true diversity" looks like for Wura Olusekun.

The 2015 graduate, who works in the National Hockey League's corporate responsibility department, says that one of her most impactful takeaways from FLAME was the lens through which she views diversity and inclusion.

"I most recently went to a lecture that talked about inclusion in the mosque, and so to me, it meant that they were going to talk about how a lot of people of color or black people are not included in the mosque, because that's a big issue," Olusekun said. "But the topic was actually about people with disabilities and how the sermons are given are usually in Arabic … or in English, but there's not interpreters. A lot of mosques, at least in my experience, none of them have ramps.

"So I was like, 'Wow, that's so mind-blowing,' because that's not something I'd ever thought about. This was because of FLAME."

This year, students heard from Olusekun, Burton, Lyles and Alexandra Schumacher, who shared their FLAME experiences with moderator Bri Tammaro, herself a 2011 graduate, on an alumni panel.

In addition to several industry executives, the class of 2018 also met Elana Meyers Taylor and Lauren Gibbs, the women's bobsled pair who left PyeongChang with silver; Rico Roman, a member of the U.S. sled hockey team that won gold at the 2018 Paralympic Winter Games; and IOC executive Anita DeFrantz, who provided the closing keynote.

In the sense that students are packing lifelong learnings into a weeklong timeframe, the program hasn't changed at all.

"We did all these different types of things that usually a person who's very young never, ever comes in contact with," Burton said. "I had a foundation that really set everything up for me moving forward, even into my college athletics days all the way up to my sports business days to what I'm doing now. [FLAME] was the foundation, and I'm forever grateful for it."

Some of FLAME's programming – like the FLAME Invited Speakership, made possible through the generosity of Drs. Tej and Simran Singh – is supported by donors to the U.S. Olympic and Paralympic Foundation, and it's not hard to see why. As its alumni can attest, FLAME has proven its worth through the value it provides to the students who attend, value that resonates in their chosen career fields.

In fact, since 2014, 60 percent of FLAME graduates have gone on to careers in sport, including 16 percent in the Olympic and Paralympic movements. Others are earning advanced degrees or climbing the professional ranks in the business world.

"I love keeping in contact with people I went to the program with and seeing what they're doing now," Schumacher said. "They're getting their MDs, their doctorates. It excites me to see other people succeeding, and I think that's a big part of this program."

Even as alumni transition to successful careers in sport, increased investment in diversity and inclusion goes a long way, according to Burton and Olusekun.

"[Diversity and inclusion] helps generate revenue. It helps generate different perspectives. It helps generate a future talent pipeline," Burton said. "When you talk about professional development and executive development, it doesn't happen unless you have qualified talent that's here and ready to step into those roles."

"Diversity and inclusion are buzzwords, and a lot of times, it can create uncomfortable conversations, but being here just felt very comfortable," Olusekun added.

And 25 years after he welcomed the first ever FLAME class to Colorado Springs, Lyles still sees the ripple effects of the program's impact on its students.

He recently received a call from a 1996 graduate, who is now married with kids, thanking him for all that he learned during his time at FLAME.

"The success of the program is the kids that come through the program and become ambassadors of the program, that build relationships amongst themselves, but then also take those learnings and apply them in their daily thought processes, in their daily routines," Lyles said. "That's where the success of the program continues to grow and build."

FLAME is presented on an annual basis by the USOC's Diversity and Inclusion program. To learn about giving opportunities in the area of diversity and inclusion, please contact foundation@usoc.org.